Zap Hosting is a fantastic game hosting service that has been gaining attention, with users jumping in to host game servers daily.
So, how do we determine if Zap Hosting is a reputable game hosting provider? We look at these key areas:
Performance
Pricing
Support
Available Games
Coupons and Promotions
Control Panel
Payment Methods
Customer Reviews
Have a read through this honest Zap Hosting review and make a decision yourself.
Zap Hosting Review 2022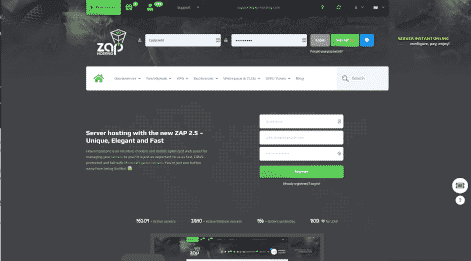 Positives
• Up-to-date website with fantastic support team
• Blazing fast server hardware with low latency
• Quick and knowledgeable customer support team
• Easy to use with Multicraft or TCAdmin among other panels for easy to use developement
Negatives
• Root servers are known to crash
Gaming has gone beyond mere consoles and the controllers directing the virtual characters for indoor entertainment. Hardcore gamers now want the liberty of tweaking and customizing their gaming experiences as much as possible. This is where a secure hosting service comes in. If you in this boat, you'd undoubtedly agree there are tons of hosting services in the market. If you don't have a specific service in mind you'll probably find yourself lost in the task of selecting something that'll work for you. This is when Zap Hosting comes in.
They came into the server-hosting market around 2010. Today, it has evolved into a multi-service business, covering TeamSpeak servers, shared hosting, game servers, Root Servers, and Virtual Private Servers (usually know as VPS). With Zap Hosting, gamers can keep all their gaming activities and other hosting needs safe without worrying about unauthorized access from internet black hat activities.
One of the main features of Zap Hosting that differentiates it from other similar service providers in the categories available to choose from. These include Minecraft and the freedom to pre-order lifetime servers. Under Zap Hosting, you'll have more options for games and other services, making it possible to find virtually anything you're looking for.
If you are going to consider a service, we bet you want to know if it works. Therefore, let's take this review further by looking at Zap Hosting performance after we took a swing at its response time and stability.
Performance
Depending on the RAM you select, the servers at Zap Hosting runs with fast SSD drives at a speed of 2Ghz to 4.4Ghz. After testing Zap Hosting's stability and response time by integrating with a game sever, the results were all too impressive. You can just sit and relax knowing this hosting service will do all the work promptly, and with a full uptime operation.
Testing was done within a period of 30 days. Within this time, our servers were devoid of downtime all through. Furthermore, the average response rate noticed was around 257 ms, which periodically dropped but didn't go below 209ms. Using Bitcatcha, the performance of Zap Hosting was also impressive, showing a very high speed.
Pricing
So here's the thing with Zap Hosting pricing. The platform doesn't have specific plans, like PloxHost, CubeHost, CreeperHost, etc., that users can subscribe to. It makes it a bit complicated but it's not rocket science. You only need to use your discretion when it comes to subscribing to a monthly plan.
Zap Hosting designed it this way so that you can create or assemble the server you need. In other words, you're offered total freedom when designing your server as they do not offer any standard plans. Rather, you simply have to choose the preferred game. Once done, you can then work on customizing your server as you wish.
While the least price starts from $3/month with 4 game server slots, you can further buy into more slots, which will increase your monthly payment. Compared to other server hosting solutions, like PloxHost that offers unlimited slots even for its cheapest plan, this Zap Hosting limited slot offer might be a downside for some gamers.
Furthermore, you'll be offered the chance to configure your server after choosing the games you want. This configuring usually involves choosing the amount of RAM you need, including the CPU. Game sever slots can be as high as 500 slots while your RAM can get as large as 16GB.
That's not all, Zap Hosting's servers are located in seven different places on the planet, where Frankfurt is the cheapest selection as it adds nothing to the cost of your subscription, while São Paulo/Brazil is the most expensive. Therefore, you'll do well to consider your server's location before you purchase the Zap Hosting service.
Zap Hosting Customer Support Options
You'd probably agree a service's performance must be as good as the support for scenarios where you need to make complaints. There's around-the-clock support via ticketing, email, and live chat on the Zap Hosting platform if you ever run into one issue or another. The support operates with all the channels between 10:30 am to 6:30 am, which is a 20-hr operation within a day. However, users will have only the option of ticket support for the remaining four hours.
The result from testing Zap Hosting's live chat support service is as impressive as the server speed. Support teams' response time was around 3-4 minutes, with an agent that was knowledgeable and helpful as he answered enquirers without pushing clients to an online link where the information might be present.
The ticketing and email channel of complaints are not bad either, though we had to wait for about an hour before we got a response. However, we've seen worse response times when it comes to email support.
Compared to other game hosts like ServerMiner and other similar service providers offer a platform, where gamers and other clients interact and help each other. We did not notice this feature or any other similar feature on the Zap Hosting service.
Zap Hosting Payment Methods
Zap Hosting offers a large number of payment options which include:
ZAP-Credits or ZAP Coins, which are added through the cashbox
Sofortüberweisung (available on German online banking)
Credit card, mobile phone payment
Giropay & EPS
PayPal
Paysafecard
Bitcoin
Call2Pay
One unique feature on this hosting platform is the offer of one-off payment known as Zap one-times. This payment option is a lifetime membership that works on the basis of a one-off payment. This payment option is not available on every service like the game server hosting, which is usually on a monthly payment system.
Nevertheless, the Zap Hosting platform allows game server hosting clients to switch between games without incurring extra costs at any time. The bummer with this hosting platform is that there is no single hint on the money-back option.
Available Games
Zap Hosting offers many games on its platform. If we are to look into the full list of games hosted on Zap Hosting, you'll have over 110 options of both original and modified game versions. Examples include ARK: Survival Evolved, Half-Life, ARMA 3, Minecraft, Garry's Mod and many more. Minecraft, being an unusually popular game with many different versions has a separate category on this hosting platform.
So, you'll get easy access to all the Minecraft versions such as Minecraft original, Minecraft, The Adventure, Life in the Forest, Feed the Beast, etc.
Offers, Coupons and Promotions
From 10% to as much as a 50% discount, Zap Hosting offers both new and existing users opportunities to enjoy their service at a generously low price. You can get these promotional offers as you visit the Zap Hosting website and another coupon-posting website
Control Panel
Zap Hosting offers users efficient control of everything via its control panel. Unlike many Minecraft hosting platforms, which use a "multicraft" control panel, Zap Hosting uses the Plesk control panel. It's as popular as the famous cPanel, however, the major difference is that Plesk is more versatile as it's available on both Linux distribution and Windows server. If you are not new to hosting servers, you'll find the Plesk control panel absolutely satisfying.
Zap Hosting Reviews from Customers
One of the best ways to determine if you are going to patronize a product or service is by word of mouth. So, let's look at what others are saying.
Jacelyn: Great Purchase. Zap Hosting offers useful ESX resources, I'm happy even though I spent all my money. My server has been running for a week non-stop without any technical issues. What's more, you'll get plenty of options to customize your server. Also, the lifetime server option is not a feature you'll get everywhere, so it's a big deal for me that Zap Hosting comes with both monthly subscription servers and a lifetime option at an affordable price. I also noticed the support service is great.
Catherine: Hosting will ruin your server and make it look like it's your fault. When I first used Zap Hosting I couldn't determine why we experienced a constant server crash. One day, the service was going great until I came from the office and I was offline. This was pretty strange as I've never had downtime with Zap. After many hours, I was active again. The same thing happened the next day but this time the server crashed when I initiated a restart.
Will: Amazing service. Before I got Zap Hosting my friends have to wait for me to start the local client part of the server before they can enjoy a game. Now, they can get in and play our favorite game, "seven days to die," without waiting. The best part is that the price is fair and easy to set up.