Game Hosting Providers With Rust
One of the most popular games for server rental is Rust, and if you're trying to find the best rust server hosting companies you'll be hit with plenty of them, so we've detailed 9 of the best game hosting providers that offer Rust at a decent price and offer plenty of performance.
With our comprehensive list of Rust server hosting providers you can filter which server host you're looking for if that's value for money, performance, packages, and server locations. Rust is solely a multiplayer game so having servers available are important.
With this, Rust servers tend to be a lot cheaper than other server hosting prices, the cheapest are around the $0.10 mark, SurvivalServers.com are set at $0.10 per slot at a standard of 50 slots.
How We Determine The Top Rust Server Hosts
Determining the best rust server host is generally a method of testing and trying each host, and as mentioned above we've spoken to Rustafield and Zombieland which both have over 100 active Rust players online, which we generally practice across all our guides like Team Fortress 2 hosting, which is another place where we've listed game hosts.
We have a set of criteria each hosting provider must tackle in order to complete the test. This is the list we use to determine if a host deserves a place on our list of rust hosts:
Price Per Slot
The price of slots offered by hosting companies is often a direction of quality. If slots are too cheap that's often an indicator of lack of quality in terms of performance, support and so on. More expensive slots often mean companies are trying to take advantage of you, but slots in the perfect range are often high quality and good price.
All in all, you should be paying $0.20 – $0.35 per slot and often have cheaper slots than this at higher slot amounts, which is just a bulk discount.
Performance
If game hosting companies don't offer fantastic performance in terms of hardware and fantastic internet speeds at their data centre they often don't get fantastic ratings from us. Game servers like Rust or Ark: Survival Evolved often need the utmost performance and hardware so this aspect is an important factor.
We highly recommend choosing a game hosting company based on how many data centres locations they have as well as the hardware within the servers which result in great performance for you and your players.
DDoS Protection & Security
DDoS and Security layers are linked to the performance of servers, often game hosting companies will install these features to ensure that performance isn't affected by DDoS attacks.
All the best rust hosting companies will need to take care of all security aspects to ensure there is no offline time for your players. Maintaining their data centre is also an important feature.
All companies listed here have been thoroughly checked for great security and DDoS protection.
Customer Service
Building your rust server can be complicated and everything may be going well but you may face a problem and an experienced team of support staff will definitely benefit you.
Support staff from companies like ServerBlend are a perfect example of great customer service which is one of the reasons they're position 1 on our comprehensive list of the best Rust server hosting providers.
9+ Highly Rated Rust Game Hosting Providers 2022
As for the best rust server hosting, Survival Servers is by far the best Rust server host and you can take a look at their great performance, server locations, prices and so much more from this host. You can find the best Rust server hosting and host here:
ServerBlend
Host Havoc
PingPerfect
Nitrous Networks
GameServers
RoxServers
GTX Gaming
Nitrado
Streamline Servers
ServerBlend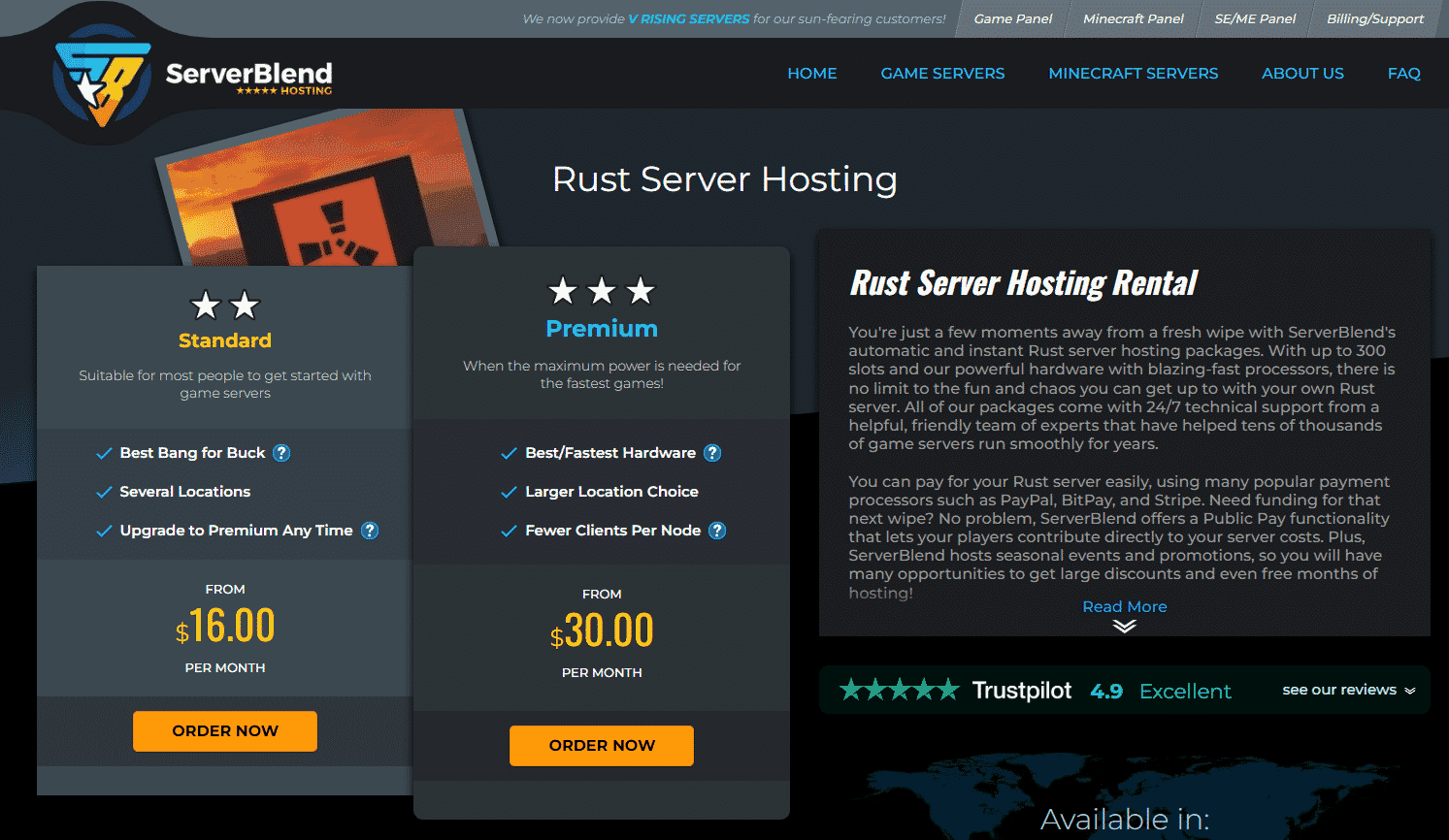 ServerBlend is by far one of the most popular server hosting providers and very popular among the Rust server community for their great security techniques and custom control panel.
Once payment has been accepted, you'll be redirected to their custom control panel where you'll be able to manage and customize everything on your rust server. Obviously, setup is instant.
ServerBlend has dedicated servers to ensure that you get the best speeds along with a decent amount of server locations to ensure that you get the best performance while playing Rust.
Any service from ServerBlend comes with free DDoS protection along with a promise of low latency. Along with this their advanced protection looks for map changes using server pass-locking.
Host Havoc

Host Havoc is known for its great performance and uptime with data centers based in 11 locations globally ensuring all players have great steady performance while playing on your Rust Server.
With free DDoS protection and endless bandwidth, you'll be sure that any security vulnerabilities are squished by Host Havoc. And, two-factor authentication is provided by this host to ensure that you're getting endless protection.
All of the rust hosting companies listed here have full FTP access with file managers if you're wanting to self-manage this server.
Host Havoc uses a popular game server control panel and is effective and efficient, and offers custom templates on the control panel for each game so there's a bit of uniqueness to the game.
PingPerfect

PingPerfect is renowned for its powerful server units and a bunch of features that offer top game hosting provider from games like Minecraft, Ark, and even Rust.
Customer support is also another notable feature from PingPerfect and shouldn't be ignored in this respect. Setup is pretty much instant and customer support instantly emails you with your credentials for the control panel and the IP to the server.
Obviously, most Rust server owners will want to have fun with plugins, PingPerfect has a mod directory for you to install mods pretty much instantly.
Read more about our list of best Atlas server hosting companies here.
And PingPerfect offers Rust slots at only $0.19/mo, with guaranteed uptime and performance, PingPerfect is yet another great candidate for Rust server hosting.
And if you're worried about access to your server, PingPerfect has FTP access along with web file access, and even features such as automatic mod installation and updates, and a free subdomain, a server console, and plenty more features from PingPerfect.
Nitrous Networks

Want a lag-free server along with an overall great quality host? Nitrous Networks could be an option for you.
Rust and Garry's Mod is possibly the top of the services Nitrous Networks provide, with their great control panel easy to use and plenty of features.
Once you've made payment for your server, you get instantly emailed your details along with access to their customer support and knowledge base.
Nitrous Network's control panel easily lets you update Rust along with any mods you install, and 24/7 uptime and server specifications 64GB of Ram quad-core CPU and multiple blazing fast SSD's
If you're worried about server access, Nitrous Networks provides full FTP access along with plenty of other features such as Rust Oxide 2.0, auto-backups, a 24-hour money-back guarantee, and loads more.
GameServers
GameServers has links to the biggest hosting companies in the world with server locations all across the planet.
Using GameServers is easy, with plenty of features to make the whole experience easier for you. Full server access and uMod or Oxide makes it even easier for you to install mods on your Rust server.
They also provide data back-ups in case you're worried about data loss. Full FTP and web FTP allows you to easily modify any server files you need to.
From Asia to Europe, this game server is possibly the best in that category, having plenty of server locations across the globe.
Payment methods are endless along with $0.18/mo per slot, and plenty of packages to make this price even cheaper for you.
RoxServers
Playing on rust servers with RoxServers is fairly simple, with easy mods and a standard control panel that makes everything simple and ensures you're playing on the game rather than fiddling with the server itself.
From one-click mod installation to instant updates, RoxServers provides all of this for a cheap price.
Unfortunately, it isn't easy to use this control on mobile, so if you're away and need to modify something, it'll be very hard to do this.
RoxServers doesn't split up dedicated servers too much, which is very good, they only divide the server into 12 parts which ensure more disk space, CPU usage, and RAM is used on your servers.
RoxServers has plenty of server locations across 6 continents, so server location usage isn't going to be a problem.
GTX Gaming
GTX Gaming is based in the United Kingdom and provides a great service and is known for its great Garry's mod server hosting, and also a great host for Rust.
With instant setup, once payment has been accepted, you'll be redirected to their control panel, which is an industry popular, so fairly standard. So you'll benefit from instant setup.
Their dedicated servers ensure performance and great uptime for your Rust server. GTX also offers plenty of accessibility features such as FTP access + web FTP access, dual CPU, mods, plugins and so much more.
Nitrado
Nitrado became very popular hosting Minecraft servers and has since launched plenty of games for hosting. With a bunch of solid features and cheap prices, you won't be disappointed by Nitrado for your Rust server.
While already hosting nearly 60k game servers, including plenty of Rust servers and to many thousands of happy customers.
Oxide mod is a popular option on Nitrado, making installing mods very easy with just a click, instant updates and so much more.
Streamline Servers
Streamline Servers has dedicated servers to beat most game hosting providers, and guaranteed uptime. So with powerful hardware and great performance and uptime, Streamline-Servers could be the next rust host for you.
Customer support is also a notable feature from Streamline Servers, as you buy the service you can quickly access the control panel after they email you your details, set up is pretty much instant on this host provider.
With features such as FTP, automatic mod installations config modify, free sub-domains, easy server console control, multicraft, automatic updates and so much more, you'll find that this game host is another great option.
Why Choose The Best Game Host for Rust?
Plenty of players will choose whichever is the cheapest host, this always ends badly. Often the cheapest will result in plenty of lag spikes and server freeze and thus needing to contact their support, which isn't often that great. So, spending that extra 0.05$ a slot is going to result in much better performance and way better support.
After hours and hours, we found the best hosting providers for Rust that have great support and detail plenty of performance, so you won't be stuck with annoying lag spikes and annoying staff.
Some of these servers can happily handle 300+ players, we've spoken to some of the biggest rust server owners and they've given us details of which hosting providers they've chosen and why, and of course their experiences with them.
Overall, private rust server hosting can be endless, from playing singularly to hosting the next big Rust server.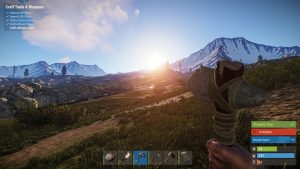 Features to Look out for When Finding the Top Rust Rental Provider
When looking for the best Rust server hosting you'll want to look out for some features that will help you maintain, manage and develop your Rust server. Performance, price, control panel, and some more are quite important.
Rust is often a graphic-intensive game and the server's performance needs to be as high as possible for your players to ensure that lag is limited, 'Frag not lag.'
The control panel often needs to be easy to use as well as be fast and effective, mod directories to install mods on your chosen game, in this case, Rust.
Should I Host My Own Rust Server?
You'll need plenty of resources and a strong overall hardware structure and great Wi-Fi to create a decent server on your own PC and network. Even if your PC and wifi can handle a 24/7 rust server with a decent amount of players, this can take time on your part actually dealing with problems that arise, whereas, if you were to choose a rust server rental provider, you won't have to deal with this.
If both your PC and Wifi have this capability, then you'll be able to have more control over the server and you might have a reduction in lag, server providers will have hundreds if not thousands of rust servers on a single server, similar to shared hosting, so if you have fast enough internet it might be beneficial to host your own.
Final Thoughts 
Throughout the hundreds of rust hosting providers, we've shortlisted 9 and these 9 are all perfect for those wanting to create their Rust server. And with our comprehensive comparison list, you can easily find one of these without guessing or comparing your self.