PebbleHost have become incredibly popular due to their cheap prices, and some customers swear by their reliability and unbeatable services. However, until a game hosting company is reviewed on BestGameHosting.net, then all those positive reviews and recommendations are the only word on the street. We take the time to review game hosting providers without being biased or naive about the facts.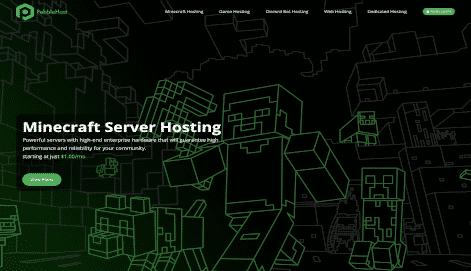 Positives
• Cheap prices with fantastic server hardware and locations
• Quick and knowledgeable customer support team
• Easy to use with Multicraft or TCAdmin among other panels for easy to use developement
• $1/GB Prices
Negatives
• Experiences of downtime
We will look at all the specifications and criteria from performance to the control panel, available games, coupons and promotions, and other essential factors. We will also consider verified customer reviews, which should help explain how the final rating score was assigned.
Some of the key points we will be touching on include;
Value for money
Performance
Control panel
Price
Customer reviews
PebbleHost Review 2022
In 2017, Pebblehost stepped into the already saturated game/voice hosting industry, and they have still stood out as an affordable and reputable choice when considering hosting servers. They deliver a commendable range of hosting services to users in more than 150 countries. They have hundreds of servers majorly across Europe and North America which rack up two petabytes of usage monthly.
The advantages of choosing PebbleHost may be numerous, but the fact that they use bare metal and VPS hosting certainly stand out. These hosting offers ensure that a wide range of gaming applications enjoy smooth running and top-notch performance. It's important to note that they majorly focus on sandbox games and Minecraft, which is not really a plus for gamers looking for an extensive list of gaming applications to choose from.
Plus, because they have vast data centers majorly in Europe and North America, Pebblehost ensures that their customers enjoy industry-level hardware, subdomain creator, timely support, java 8 support and task scheduling all at no added costs.
Information
| | |
| --- | --- |
| Site Name | PebbleHost |
| Promotion | Seasonal Promotions up to 10% Off |
| Email Address | |
| Established | 2017 |
| TrustPilot Rating | 1.5 |
| Games Available | Minecraft, Ark: Survival Evolved, Rust, Team Forest 2, Valheim & Satisfactory |
| Payment Methods | American Express, Visa, Mastercard & Discover |
| Control Panel | TCAdmin V2 |
| Server Hardware | Intel, AMD & Xeon Processors |
Performance
Most gamers connected to a community need seamless and responsive performance with minimal lags and zero downtime. That means the host server providers have to work extra hard to ensure all software and hardware in use are up to par with enterprise-level systems.
We can say that Pebblehost is one of those host companies that promise an efficient, smooth and reliable gaming experience at affordable service costs. Seeing that the gaming industry has evolved since the early 2000's, and now require a larger RAM capacity than CPU power, their unmetered storage certainly appeals to modern gamers.


Pebblehost actually started out by using hard-disk based dedicated servers in their data centers, however, they soon upgraded to more efficient SSDs and processors to keep up with the fast-paced market. As Pebblehost continued to expand, it was only wise to extend their data footprint by purchasing a higher range of servers that promise lag-free connection, efficient speeds and smooth performance.
PebbleHost can now boast of more than 300 efficient and high-performing servers in France, Canada and across Europe. Even more, PebbleHost has delved into the Australian market which was a smart and helpful decision as Australia had some challenges maintaining its connections with other parts of the world as compared to other countries in Europe and America. This issue was solved by providing new servers in the region; they did this in partnership with OVHcloud, and this union has proven to be very productive.
That brings us to PebbleHost's collaboration with OVHcloud. The latter is known for their reliability, affordable prices, and excellent performance which explains why PebbleHost has stuck with them over the years. Since PebbleHost is adamant about providing excellent RAM performance and highly efficient SSD disks, OVHcloud's efficiency and reliability made them the perfect choice.
Now, PebbleHost can boast of a high-performing CPU alongside a 3.7 GHz and DDR4 memory. That's not all, their high-grade SSDs, and 250 Mbps uplink accompanied with unlimited slots are probably the reason many users are attracted to their platform. The storage amount they offer is much more than what's needed for Minecraft and is actually very generous. Many other providers don't offer this much and sometimes even put much lower caps.
Let's stray a little and talk about their performance when it comes to privacy and security. First of all, PebbleHost uses 2-factor authentication with a built-in firewall that guarantees DDoS protection. It's also nice to know that they update their mod packs consistently and ensure new ones are added as often as required. The mod packs they support include versions like CurseForge, FTB, Forge, Technic and SpongeForge.
PebbleHost Available Games
PebbleHost may be known as one of the best budget hosting options for Minecraft, however, that is not the only gaming application they offer. Their listings may not be as vast as other game hosts like Blue Fangs Solutions, but what they lack in quantity, they surely make up for in quality. We will list the major games available on the PebbleHost platform below;
Minecraft
Ark: Survival Evolved
Team Fortress 2
Rust
Valheim
Price
When considering the price of a product or service, it's important to look at the value of the services and provisions offered. For example, the price and performance ratio the Pebblehost provide is quite impressive, plus, they have various plans to suit gamers from different walks of life. There's the Budget, Premium and Extreme plan with the budget plan starting at $3 per quarter for 1GB.
The premium plan is valued per month and costs $2.25 for 1Gb while the extreme plan comes with priority support, more control over the servers and a dedicated CPU for an obviously higher price. Regardless of the plan a user chooses, they are guaranteed strong, durable and powerful hardware, reliable performance and efficient servers at a relatively affordable price. PebbleHost is not named one of the budget Minecraft servers for nothing, they certainly deliver on the 'value for money' mantra while offering incredibly affordable prices.
PebbleHost Customer Support Options
The service offers 24/7 customer support. This is done via various ways, which include ticketing, live chat, and Discord. Also, the customer service is pretty reliable, and most user reviews show that you can reach a representative quite quickly. The customer support agents are also quite well-learned and are quick to pinpoint and even troubleshoot user problems.
Another service worth noting is their active support on sites like Reddit. No doubt, they scan through complaints and respond to each one, other game hosts like Gaming Deluxe has a similar system of replying to complaints on forums.
Pebble also has a knowledge base centre on the site, which is pretty helpful for users. All the articles are pretty straightforward to understand and are also very informative. If you're stuck with a particular problem, you can quickly search through the knowledge base. You'll find a wide variety of topics to help you manage your server effectively.
Control Panel
It is no secret how trendy or evolving the gaming world can be, that means that GSP's like PebbleHost have to work twice as hard to stay on top of industry modifications and embrace functional and fresh interfaces.
We have noticed that PebbleHost manages to upscale to cater to the increasing demand across various locations, but they also shrink certain operations when required. Plus, thanks to the OVHcloud control panel, PebbleHost does not have to spend long hours trying to manage servers independently, rather, they simply add on more resources or delete old or outdated ones to suit customers demand and server performance per time.
Another feature from PebbleHost that is commendable is the simplicity and ease of use that is guaranteed. Users can easily set up, start, restart and even stop servers from the comfort of their homes. The console also allows customers to run other simple commands, track usage, manage plugins, and enjoy full FTP access.
PebbleHost Customer Reviews
You'll likely find many more reviews online that will have pretty great things to say about Pebblehost. However, it would be fair game to bring them all to the table. On that note, we've scoured the internet to find a few more reviews for a fairer outlook.
Ender: I don't know about others, but for me, this is the best hosting server ever! My server's performance is incredible, everything runs smoothly and I am really impressed. I found it very easy to get used to the control panel, the features are pretty straightforward to manoeuvre in my
humble opinion. I highly recommended Pebblehost not only because of their budget plans but also because they are quite reliable.
Stockley: I have been using Pebblehost for up to three years now, I will say that I have stuck with them out of loyalty, not really because their services are really up there, but it's manageable. I can vouch for their affordable prices, and even their features but for their hosting locations, I am not too impressed. They do not really have American hosting locations, so most of us have to settle for a European one instead, but that means that my ping won't be that great, the servers too.
Verified user: One of the major benefits of using Pebblehost have to be their prices, they are certainly one of the cheapest I know, at least for the services they provide. I have had no problems with their Discord support as some customers have said, they are very responsive, professional and polite.