Top Valheim Server Hosts 2022
We've considered more than 80 game hosting companies that feature Valheim, and we've shortlisted the top 8 Valheim server hosting providers: 
ServerBlend 
Host Havoc
GTXGaming
PingPerfect
Nitrous Networks
Low MS
Valheim really started off as a beta, and was incredibly buggy and wasn't much point playing it until it officially released, and has grown rapidly overnight with hundreds of Valheim server hosting options being deployed.
And like most new trending games, like Dead Matter, plenty of server hosting providers are now offering it, so the question is which is the best Valheim server hosting today?
List of Highly Rated Game Hosts with Valheim 
Below is a list of the best Valheim server hosting, and why they're worth considering:
1. ServerBlend
This game server host is probably one of the best today, with plenty of server locations, hardware, game options and so much more it's their perfect hosting provider for Valheim.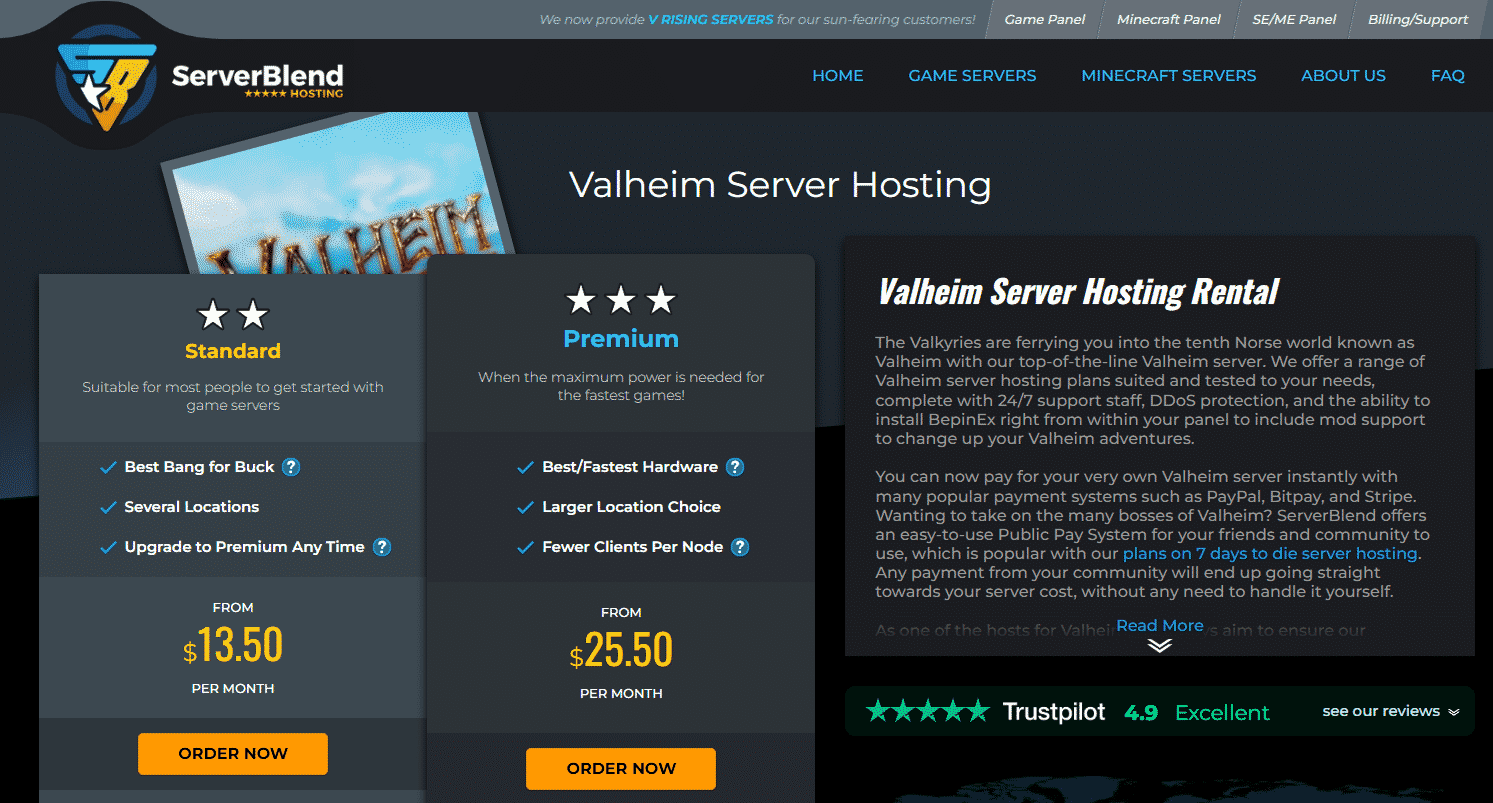 We've chosen it as the best Valheim server host because of its rapid speed supporting this game and the recommendations it's had because of its features and rollout for demand.
As we said above, you can get plenty of server locations from US to Europe to Australia and you'll get some fairly good DDoS protection, with ultrafast NVMe SSds with Intel and AMD CPUs across America, Europe and some Asian locations.
At the moment, ServerBlend is offering 10 slots at the moment at only $13.50/month, this is fairly moderate in terms of value for money. And you can get mods like ValheimPlus and a fantastic option for support.
2. Indifferent Broccoli
One of the latest game hosting companies, Indifferent Broccoli has established itself in the market with a fantastic layout and some quality hardware. Adding to this, top-notch customer service and also constant back-ups.
One thing to note is the flawless control panel that Indifferent Broccoli has designed, a clean and easy to use design makes sure you can easily configure your Valheim server.
You can even start a server without any need to enter payment details with their free two-day trial. From adding mods to installing Valheim+ you can easily configure any aspects of Valheim.
A cheap and extremely quality option you can find at Indifferent Broccoli, be sure to check them out at only $14/month.
3. Host Havoc
 Host Havoc is one of the top game hosting companies throughout the industry and has quickly started to offer Valheim as an option to its customers. They're based in Canada and have been around since 2013, a fairly new host compared to other game hosts like Nitrado, which was founded in 2001.

With plenty of locations, great support, value for money, Host Havoc has become a popular option for those wanting to rent a server and we've voted them position four for this reason.
You'll be able to pay easily with it's eWallet and debit card support and instant setup, so you'll quickly be able to start your Valheim server.
4. GTX Gaming
UK-Based GTX Gaming is a game server hosting provider and constantly adds new and upcoming games like Valheim. They've pretty much instantly added Valheim to their list of hundreds of supported games.
This company has been around since 2008 and has plenty of time to mature and specialise in games like Rust, so Valheim is particularly great with GTXGaming. They've made it second to Survival Servers due to their lack of customer support options.

On a positive note, they have plenty of features like automatic backups, RCON support, mod support and also great DDoS protection to ensure the best uptime for your friends or community!
5. PingPerfect
PingPerfect is one of our favourite game hosting providers around, with locations across the continents and quick and easy payment methods, PingPerfect makes renting a game server very easy, and this comes with consideration to Valheim as well.
PingPerfect have great prices on Valheim, if you were to select quarterly payments, that'll reduce you down to 20% discount, and so forth as you select a longer payment term.
The control panel is easy to use, a fairly standard one but nevertheless, it's functional. Compared to other panels like GameServers.com and ScalaCube, it's not as good, but still doesn't get too many bad points.
6. Nitrous Networks
Nitrous Networks will ensure that you don't have any interruptions from lag with their fantastic DDoS Protection which is included within all packages at Nitrous Networks. You can get up to 10 players with Nitrous Networks at the moment and all game hosting companies are working on increasing this number.
Like the majority of game hosting companies, Nitrous Networks is currently using TCAdmin v2 which is a standard panel software, which is fairly efficient and easy to use. Nitrous Networks also guarantees a 99.9% uptime with high quality data centers across 10 locations.
And if you face any issues while hosting with Nitrous Networks you can quickly contac their support team in under 10 minutes with Nitrous Networks, may be higher due to the amount of tickets being created regarding Valheim.
At the moment, 10 slots with Nitrous Networks is $24/month and they have a 72-hour money back guarantee.
7. 1GServerHost
1GServerHost are the new kids on the block and have quickly created easy and impressive features and can easily manage your Valheim server without any effort using the commonly used TC Admin v2, which is used by many game hosting companies.
You can access your server files with software like FileZila incase you're wanting to upload an existing world from a dedicated server and their servers are top-quality and perform very well. 1GServerHost instantly keeps back-ups of your server incase something goes wrong, which can happen with early access games like Valheim.

Your server is protected with DDoS Protection across all their data centers and provides fantastic speed and maximum efficiency to ensure you have no interruptions with lag, they have 16 server locations across America, Europe and Canada.
You can get a Valheim server with 10 slots for $14/month and has support for Valheim+ if you're wanting to choose that modification.
8. Low Ms
Low.ms has previously worked with developers of games to provide the most high-quality server rental possibly, and it's very likely they're in talks with Iron Gate AB to provide the most update to date features for Valheim.
Go with Low Ms and you'll easily be able to play with your friends or community online with their fantastic reviews and free DDoS protection to ensure that you're not interrupted with any lag while renting a server with Low.ms.
They easily manage all the technical side of things as well as give you full FTP access with applications like FileZilla in case you're wanting to upload an existing world file from a self-hosted Valheim server.
You can get 10 player slots for $13.70/mo from Low ms with i9 processors NVMe SSDs with DDR4 ram for the most high-quality efficient speed and also get free DDoS protection to combat any lag.
9. ShockByte
ShockByte has mainly focussed on Minecraft server hosting, however, they quickly emerged to supporting Valheim servers at only $14.99/mo with 10 player slots with automatic modding, 100% uptime, low latency, free subdomain, full FTP access and so much more features.
You'll have no worries when choosing ShockBye due to their robust server locations with free DDoS protection and automatic setup following confirmed payment by one of their payment methods.
You can easily install mods like Valheim+ with their automatic mod install and full access with FTP access.
You can get daily backups with ShockByte which are performed daily to ensure the safety of your server and if anything goes wrong you can easily reinstall your last backup, easily contact their customer support and ask for some help.
You can get 10 player slots for your Valheim server for $14.99/mo and choose across 5 server locations, North America, Europe, Asia Pacific, and Singapore with a minimum of 4GB of RAM and 50GB NVMe SSDs for each server.
10. G Portal
G Portal are sitting on the third position, and don't get us wrong G Portal is a fantastic game server host and still deserves its position in this list. It's quickly added support to this overnight game.
Being a majority Minecraft server hosting provider it really positions itself as a good game host as Minecraft is really the milestone of game hosting services.
Customer support is a great feature of G Portal, we had a slight issue with setting up our test server on Valheim and came across some basic issues, and didn't decide to fix those, so we contacted support and they quickly responded with a great response.
Starting from $13.37/month you can get 10 slots and choose from a range of server locations in America and Europe with fantastic support, instant setup and free DDoS Protection.
What is Valheim?
Valheim is the latest survival sandbox game to come out of IronGate Ab, a Swedish development company, and has topped the list of the best sellers on steam and has hit up to 500,000 concurrent players on Steam Charts.
It's had extremely positive feedback from players with over 13,000 reviews on Steam. It shares similarities to the early 2000's games like Runescape.
Similar games like Ark: Survival Evolved and Rust have built large communities around their Survival sandbox gameplay and Valheim is next up due to the simplicity and easy walk-through that beats even matured games like Ark.
In summary, it's pretty much an early access game and works successfully, unlike other early access games. Valheim hasn't created anything new in terms of game mechanics, but it's the avoidance of difficult game mechanics or tougher decisions that increase the value of the game across players.
Why Rent a Server for Valheim? 
There are two options when hosting a Valheim server, you can do it by self-hosting on a dedicated computer or a rental service like the below, the latter is highly beneficial to the prior option, self-hosting can usually cost a similar amount to renting one anyway and renting comes more beneficial in features and ease of use.
For as low as $13/mo, you can get a Valheim server and have it hosted 24/7 with hundreds of features, and with self-hosting, problems can arise taking time from you.
You'll have a reduction in lag due to the game hosting companies having a large amount of Gbps server connections at their data centers and have much much more reduction in lag, it's often shared hosting but is highly efficient.
We've shortlisted options for hosting a server on this fantastic game, Valheim. Take a look below
Final Thoughts
All in all, Valheim is set to be one of the biggest games this year and their server hosting capabilities are going to grow with more available player slots and better server performance, so choosing the correct Valheim is important.
From NVMe SSDs and the best DDoS protection, you'll need to choose wisely, we'd also suggest checking the server locations with something like GTX Gaming have the best server locations for Valheim.
Be sure to head over to one of our recommended Valheim hosts to find set up your server and grow your community.