Today's BlackBox Servers review will cover just about everything the hosting site offers. To paint a clear picture of their services we will take a closer look at their available games, coupons, and promotions, control panel, payment methods, as well as, some reviews from real customers.
Keep in mind that though we are looking at the coupons and promotions they offer, that does not affect the overall rating. Nevertheless, the above-listed criteria are all taken into consideration.
BlackBoxServers Review 2021
Before diving into a general review of the platform, here are some upsides and downsides to using the game hosting company.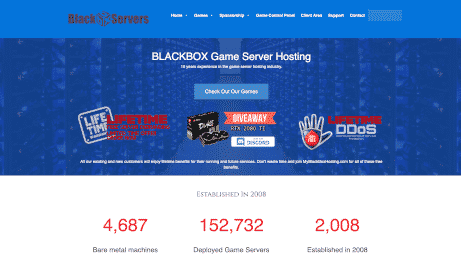 Positives
• Friendly and swift acting customer support
• Easy to set up with an intuitive control panel
• Optimum performance with minimal lag
• Seamless installation for modifications and plugins
• Automatic backups offsite
Negatives
• Maximum of 24 hours money-back guarantee
• They do not offer seamless location switching or automatic updates
In general, BlackBox is widely liked, it makes sense since they have been around for over a decade which gave them enough time to sort out the kinks. Altogether, they offer a wide range of enterprise-level IT services besides being a game hosting site. Some of them include:
Private cloud and managed hosting
Remote desktop solutions
Co-locations
Virtual private servers
Back up
Service levels
More specifically, their game hosting servers are present in some of the most populated regions worldwide. These include cities like Dallas, New York, Los Angeles, Montreal, Stockholm, Paris, London, and Sydney. We discovered that most of their locations are picked by public demand, they encourage users to suggest new locations for their consideration. Nevertheless, they do not take the decision lightly when picking data centers.
When it comes to their pricing, they are considered one of the most affordable options out there. Nevertheless, the more slots purchased, the more affordable they become. For instance, the price per slot is $1.21 if you are buying 10 slots, but it is $0.50 if you buy up to 120 slots. That translates to $12.10 dollars per month for 10 slots and $60 per month for 120 slots. Needless to say, it is quite affordable when compared to a service like Gameservers seeing as their prices range from $0.15 per slot to $2.25 per slot.
It is noteworthy that they have a minimum and maximum number of slots that can be purchased; 10 and 120 slots respectively. Also, they do not charge for extras. Based on this, if you factor in the occasional promo codes and coupons available, that is most likely to reduce the cost considerably. Now, to the part most gamers look forward to analyzing, which is performance. They do not hold back when it comes to investing in up-to-date machinery.
To that effect, the CPU, SSD hard disks, and memory are ultra-modern to ensure that the server performs optimally, so there is little to no lag. Upon closer inspection, we found out that their service was not always this way with their server uptime improving considerably over the years. Furthermore, there is no delay when integrating server management features once new updates are released. Nevertheless, you have to note that these updates are not automatic.
Another great thing that caught our attention was that their servers offer complete FTP access. This allows users to seamlessly back up their information and game maps in case that there is an unexpected hitch. When we hit a slight snag, it was fairly easy for us to reinstall and update all our information from backup. We will not go into detail about their control panel just yet, but they use a common hosting panel known as TCAdmin and it is quite easy to tweak.
Then there's customer support, for the most part, BlackBox servers offer efficient and responsive customer support. We reached out to customer support to check their response time and were not disappointed. They got back to us in a matter of a few minutes and offered straightforward responses. For the most part, most users are impressed when it comes to their support, but a handful complain that their support site is riddled with bugs that make it difficult to submit a ticket.
Nevertheless, the ticket system is not all they have to offer, users can reach them through live chats. Considering all our findings, BlackBox servers offer good performance, good value for money and their support is one of their best features.
Available Games
As far as available games go, BlackBox servers offer a wide range, too many to list all at once. Below is a cross-section of some of the many games available.
– 7 Days to Die
– Ark Survival Evolved
– Assetto Corsa Competizione
– Arma3 Desolation Redux
– Arma3 Breaking Point
– Citadel Forged With Fire
– Dark and Light
– Empyrion Galactic Survival
– PS4 Ark Servers
– DayZ Standalone
– Minecraft
– Metal Gear Survive
– Mount & Blade II Bannerlord
– Player's Unknown Battlegrounds
– Totally Accurate Battlegrounds
– Outlaws of the Old West
Coupons and Promotions
They may not be much for seasonal promotions, but BlackBox does offer coupons ranging from 10% to 50%. We will keep you posted and informed about any upcoming promos.
Control Panel Review
Their control panel has a very simple user interface, it is evident that it was designed to be simple, yet efficient. With the TCAdmin control panel, configuration and customization are quite accessible. It features a range of drop-down menu options that make it easy for users to personalize the server. It houses everything from the server map to complex multipliers.
Furthermore, the control panel makes it increasingly simple to modify the server, nevertheless, there is no provision for a GUI mod manager or auto-updating mods. Regardless, it is still efficient and quite easy to navigate.
Payment Methods
For the most part, the payment process is quite simple and straightforward. Users can either remit payment using Paypal, Mastercard (debit and credit card), and VISA (debit and credit card. They operate a monthly billing system that is easy to cancel, nevertheless, the timing matters. Users must cancel the service right at the start of the next billing month before it reflects.
There is also a money-back guarantee for unsatisfied users, no questions asked. Nevertheless, this guarantee is only valid within 24 hours of the purchase unless there are some special circumstances.
Reviews from Customers
Steve A: From my first encounter with the sales team, the experience was seamless. They guided me as I decided what hardware would be best suited for my game server. After that, the purchase was equally seamless and a mere 20 minutes later, I was playing the game. At first, I struggled to set up my mods, not realizing that they had added a handy 1-click installation feature and plugins for mods, made available from the steam workshop. Through it all, the support team was right behind me, delivering prompt replies.
Chris RT: For the past year, I have been using BlackBox servers to host the 7 Days to Die server I use to play with my buddies now and again. So far, it has been alright, the setup was swift and customer support responds in no time. They do not just respond, they also provide speedy solutions to the hitches I have encountered. On average, they get it done in less than a day. In terms of performance, I have not noticed any lag since I started playing.
Lone Norseman: I use a server hosted by BlackBox and for the most part, the first couple of days were hitch-free. But, at the moment, the server is down and the mods are not updating correctly. I have tried to raise a ticket, but their website is too buggy, I was at it for hours. Even worse, the server has that 5-6 second rubber banding many other players I know complained about.