Overall, ScalaCube is one of the top game hosting providers currently a top host for Ark: Survival Evolved. In our ScalaCube review, we tested ScalaCube on both Ark and Minecraft servers with both being a top-notch host for these. And they've become more and more popular in terms of Ark hosting as well as Minecraft.
If you even have the slightest knowledge of the gaming world, you must be knowing how these two go hand in hand. ScalaCube has come to light for being listed as one of the top Ark server hosting companies on the internet. This has been its reason for fame. Even though it offers the same amazing services for other games also, Minecraft is what it is known for.
ScalaCube also offers a variety of other games such as:
Hytale
ARK: Survival Evolved
Minecraft Bedroom & Java Edition
Minecraft: PE
ScalaCube Review 2022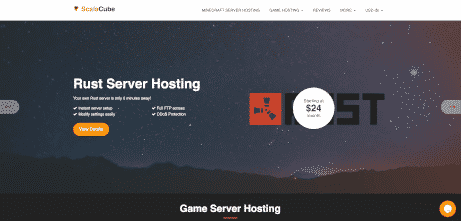 Positives
• Plenty of server locations
• Experienced staff
Negatives
• Long wait times
• High recurring fees
What Features Does It Offer?
As a player, we are always interested in what it has to offer us. So, we have taken down each individual feature and analyzed it properly. The features we usually look for in a server are as follows:
Packages/ plans
Payment methods
Server locations
Customer support
Ease of use
Uptime
Control Panel
Safety
Storage and Traffic
As of now, ScalaCube is offering the following number of plans for individual games:
ARK – 12 plans
Rust – 41 plans
Minecraft PE – 9 VPS plans
Minecraft – 9 VPS plans
Nice, these plans show that you have enough choice to pick from. We will be focusing on the plans for Minecraft here as it is the most popular game being hosted worldwide. When you opt for any 1 of these 9 VPS plans for Minecraft, you get the following:
10 GB – 320 GB SSD storage
768 MB – 32 GB of RAM
1*8*3.4 GHz CPU processor
Automated backups for just one-time fees.
Interesting, isn't it? But, I have seen beginners get confused and they usually ask if the features being offered by all the plans are the same, what is different? First of all, the amount you get is different. For example, for the plan Minecraft VPS 16G, you will have to pay $48.00 while you will get 16GB RAM and 160GB SSD. Similarly, for other plans, these numbers are going to be different. Even the slots they offer are different per plan.
All the plans available at ScalaCUbe provide you with "unlimited" or "max-players" options. This means that you can have the maximum number of players on your server, which are in accordance with the RAM that is provided to you. It certainly does not mean that you can play with a 100 players on each plan you purchase. Let's throw light on the different plans it has to offer and decide which one you want to pick from the lot:
Information
| | |
| --- | --- |
| Site Name | ScalaCube |
| Promotion | Seasonal Promotions up to 10% Off |
| Email Address | |
| Established | 2014 |
| TrustPilot Rating | 4.6 |
| Games Available | ARK, Valheim, Dead Matter, Minecraft, Rust & Project Zomboid |
| Payment Methods | American Express, Visa, Mastercard & Discover |
| Control Panel | TCAdmin V2 |
| Server Hardware | Intel, AMD & Xeon Processors |
ScalaCube Payment Methods 
For me, payment has always been an issue. At times, some host websites used to fit perfectly well with my criteria. But, at the end of the day when I had invested hours in searching and understanding the server and selecting the plan, I ended up not going for it because it did not support the payment method I preferred. Bummer, isn't it?
ScalaCube gives flexibility to the players. They can pay by the following methods:
Fair enough, isn't it? Now you don't need to worry if your payment method is covered or not. Moreover, keeping in lieu with the policy conditions you don't need to worry about satisfaction. You can pay in any of the following currencies:
GBP
USD
MXN
BRL
EUR
NOK
SEK
CAD
RUB
NZD.
Server Locations
Have you ever felt your game lag? AHH! That dreaded lag issue. At some point, everyone faces some sort of latency issues. Have you ever wondered why? When you connect to a gaming server, the server connects you to a local server or the nearest one if a local one is not present at your place. The closer you are to the server, the better the game performance. On the other hand, the farther you are from a server, you face latency issues. The game lags, you fire a bullet, and it comes out after 5 seconds Oh! The frustration you face is totally understandable.
Server locations are often featured throughout the most popular game hosting providers like GameServers, which highly ranks on this list of the best DayZ hosting brands, since DayZ is a highly graphical game it isn't easy to rank for such a game hosting list with great performance.
So, it is best to opt for a game server that generally has server locations all over the world. But, if that is not possible, go for one which offers a local server in your region. The more the server locations, the better the uptime on the game as well. ScalaCube provides 99.9% uptime on its servers. It means that it is up and running 99.9% of the time. Apart from that, it has server locations in the following places:
North America
United Kingdom
South America
Australia
Yes, it covers 4 continents. In these 4 continents, you will get much better speed as compared to Asia, Africa, etc. Best of all, you can check the latency for your particular country before you even go ahead and purchase it. Simply wow! For testing their servers you can log on to:
United Kingdom Test Server IP: uk.scalacube.net:25565
Europe Test Server IP: eu.scalacube.net:25565
Australia Test Server IP: au.scalacube.net:25565
North America Test Server IP: us.scalacube.net:25565
Customer Support
Even though they claim to offer different methods of customer support – this was one aspect that was not up to the mark. They only provide a response to the tickets which have been submitted through the control panel only. Apart from this, they also have live chat and the option of email. Best of all, you can also help yourself. There are so many topics that have been covered in the support section that you don't need direct help.
Ease of Use
All the features and prices are of no use if using the server is difficult. Even though it is an under-the-radar, smaller host, it is very easy to use. Setting it up is a piece of cake. All you need to do is select a plan, make the payment and get ready to play. Yes, it is THAT Simple. Moreover, you get a forum and pre-configured website totally free. Oh! How much I love things for free. What more can one ask for?
Control Panel
Instant control panel access is given once you make the payment. Hence, changing and adding modifications becomes very easy. Also, the control panel is simple to use and user-friendly. Along with the access to the control panel, you will get full FTP access, PHP, phyMYAdmin, Apache and MySQL along with root access. So many features, nice!
Storage and Traffic
Even though it is a smaller server host as compared to others, ScalaCube has maintained its quality standards. You will get unlimited traffic. That too, without throttling. Moreover, it is totally free and the bandwidth is also free. Hence, you can get unlimited traffic either downstream or upstream.
Coming to the storage, it is different depending on the plan you are going for. Best of all, you have a choice between going for SSD storage or HDD Storage. Amazingly, it offers almost 10 times more storage as compared to HDD storage. So, if you have data that is important and needs to be accessed frequently, SSD is the storage to go for.
Which ScalaCube Plan Is the Best?
Definitely, it depends on what you require. But, the general rule of thumb is to go for the cheapest plan. In this way, you will know exactly what you are signing up for and if not satisfied, you will not have wasted your money. Here the question arises that what if you like the server and want to get a better plan? What can be the procedure then? Well, it is very simple. You just need to put in a request and the support team will automatically shift you to the plan you want. ScalaCube gives the players the option of migration between plans.
ScalaCube Reviews from Customers
Even though I have personally brought and played on ScalaCube for a while before writing this review, I always include the reviews of other people. After all, everyone has their experience and I believe we should hear all the sides of a story before making a decision. Moreover, most of the reviews have been taken from Trustpilot, hence the authenticity.
RayneBlox: A great website on which it is easy to do different stuff.
Milo Liefly: You get exactly what you'd expect at such a competitive price with ScalaCube.
UwaTrKoda: So, there is no lag and the server is generally great, my friends and I enjoyed the server gameplay a lot. The only negative I could find in the server was that when the RAM runs out, there is no warning or anything, the server just shuts down immediately. But then again, I think it is my fault as it is the RAM that I have brought and I should have gone with the most economical one. Apart from this, all the other things are great.
JacobMore: It is very easy to set up. It has an easy to understand interface with cheap offers. You have many options to turn the server on and off to install modifications. It has very generous offers for the players.
Eirik E.H: It has been 3 days since I have been trying to play FTP omnia. But, even with 3 players, the server started to lag really bad. Then, I upgraded to the 12GB option. For 2 days, it was all well. But I can't even start it. I have contacted customer support and the only option they give is that they change the server and give me a new one. Overall, what I really like about it is that they have a one-click option for most of the features. So, I don't need to know much and get around with things. Also, they have a very sneaky  3-month plan which I was not aware of, so I am stuck here for 2 months.
Final Thoughts on ScalaCube Hosting
If you are specifically looking for a host server for Minecraft or Ark: Survival Evolved, ScalaCube should be your choice. It does not go without saying that there are many other servers that provide better services as compared to ScalaCube.