In our Survival Servers review we'll be looking at some of the games available, coupons and promotions, payment methods and also Survival Servers reviews from customers.
Survival Servers Review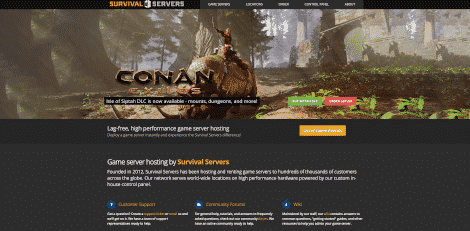 Positives
• Fantastic staff with vast knowledge
• Over 15 locations across USA and Europe
• Fast SSD Storage & Hardware
• Forum and Wiki for all users
Negatives
• No refunds rented game servers
How do we determine if SurvivalServers.com is a reputable game hosting provider in our review? We look at these key areas:
Value for money
Control panel
Performance
Modifications
Customer support
We also usually look at coupons and promotions at the time, but it's not a determination of quality in our review.
SurvivalServers also have 7 server locations globally, 5 in North America, 1 in France and another in Germany. All of which have DDoS protection apart from the North Carolina data center. And you can switch locations anytime.
The game hosting provider also has a wide range of popular mods like Scorched Earth, The Center, Primitive Plus and a wide range of Steam workshop mods.
SurvivalServers was also rated No.1 on our 'Best Ark Server Hosting' list
Games Available on SurvivalServers
SurvivalServers.com has been around for over 8 years now, they've made a plethora of games available on their hosting platform. They have a wide range of games available as follows:
ARK: Survival Evolved (PC & PS4)
Minecraft
Rust
DayZ
7 Days to Die
Conan Exiles
Arma 2 & 3
Miscreated
Atlas
Day of Dragons
For per slot these can range from $0.20 to $2.30 which is fairly well priced. Looking at DayZ server hosting, it's currently priced at $0.25 per slot, which is reasonable when you compare it to the likes of GTX Gaming or GameServers.
These games all come with super-speed SSD hard drives, a unique control panel, a wide range of mods, FTP access, DDoS protection, the latest version of mods for game types, map generator.
Coupons and Promotions For SurvivalServers.com
SurvivalServers.com constantly has coupons and promotions on, these coupons can range from 13-56% and can be automatically applied once you have visited our site, so all you need to do is click the link above to visit SurvivalServers.com and use our coupon codes as well as compare your favorite
SurvivalServers Server Specifications 
At the time of publication, SurvivalServers.com has a wide range of awesome specs for optimal performance and other features. SurvivalServers.com has some amazing features such as SSD drives, Dual Xeon processors, custom control panel, FTP access, DDoS protection and some other awesome specifications.
Compared to other game hosting providers, SurvivalServers has some blazing-fast speed performance when we had a look in our test server, for example, RoxServers have a slightly lower price yet their performance decreases with this due to a lower amount of data center.
SurvivalServers Custom Control Panel
SurvivalServers.com have a ready built control panel in order to make their customers have a better experience, it can help with adding features and easily outcompetes the likes of TCAdmin.
If a mod installation is important to you, SurvivalServers is a good choice, the custom control panel helps you with all things mods/plugins!
SurvivalServers Payment Methods
In SurvivalServers.com terms and conditions it states that the payee must be 18 or older to rent server space. SurvivalServers.com are currently accepting payments from eWallet giant Paypal and credit cards like visa and MasterCard.
So if you're wanting to pay via eWallets like Skrill, they currently don't support them, but you can use Paypal or Credit Cards.
Survival Servers Reviews from Customers
Nikki S: I've never had troubles with SurvivalServers.com. I operate an ark server.. There were relatively few problems with ftping and no concerns were easily resolved. The expenses are manageable because the server is still online as I frequently visit to ensure that the server is still on its feet.
Preefen: Since about a month, I've been using them. There were two uploading problems that they resolved in less than 24 hours. No upgrade or deployment issues. No major problems.
Pordinlaw: Survival Servers has been great all throughout my experience, my overall review of the hosting company is fairly positive and would recommend them, although I had a long reply time to my ticket.