In our Survival Servers review, we'll be looking at some of the games available, coupons and promotions, payment methods, and also Survival Servers reviews from customers.
Survival Servers Review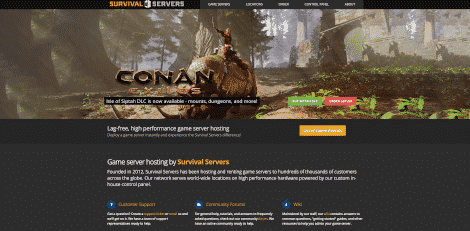 Positives
• Over 15 locations across USA and Europe
• SSD Storage
• Forum and Wiki for all users
Negatives
• No refunds rented game servers
• Expensive
• Unreliable Uptime
How do we determine if SurvivalServers.com is a reputable game hosting provider in our review? We look at these key areas:
Value for money
Control panel
Performance
Modifications
Customer support
We also usually look at coupons and promotions at the time, but it's not a determination of quality in our review.
SurvivalServers also have 7 server locations globally, 5 in North America, 1 in France, and another in Germany. All of which have DDoS protection apart from the North Carolina data center. And you can switch locations anytime.
The game hosting provider also has a wide range of popular mods like Scorched Earth, The Center, Primitive Plus, and a wide range of Steam workshop mods.
Summary
To summarize our Survival Servers review, we have rated Survival Servers 2.8 stars out of 5. As this is the lowest rating we've given, we do not recommend Survival Servers. While they do offer servers across many locations, their pricing is quite high compared to other hosts. Furthermore, quite a few TrustPilot reviews indicate a very strict policy against refunds and unreliable servers that are down frequently.
When we host our games, we like to make sure that our host gives us a very high uptime so that we don't lose players due to the server being down. Seeing reports that they commonly dispute legitimate TrustPilot complaints isn't very comforting either, as it indicates their actual rating may be much lower taking into account the negative reviews they've removed.
If you're looking for an Ark host, take a look at our 'Best Ark Server Hosting' list. If you'd like to see more details about how we rated Survival Servers, continue reading below.
Information
| | |
| --- | --- |
| Site Name | Survival Servers |
| Promotion | Seasonal Promotions up to 20% Off |
| Email Address | |
| Established | 2008 |
| TrustPilot Rating | 4.8 (?) |
| Games Available | ARK, Valheim, Dead Matter, Minecraft, Rust & Project Zomboid |
| Payment Methods | American Express, Visa, Mastercard & Discover |
| Control Panel | Custom Panel |
| Server Hardware | Intel, AMD & Xeon Processors |
Games Available on SurvivalServers
SurvivalServers.com has been around for over 8 years now, they've made a plethora of games available on their hosting platform. They have a wide range of games available as follows:
ARK: Survival Evolved (PC & PS4)
Minecraft
Rust
7 Days to Die
Conan Exiles
Arma 2 & 3
Miscreated
Atlas
Day of Dragons
These games all come with SSD hard drives, a unique control panel, a wide range of mods, FTP access, and DDoS protection.
Coupons and Promotions For SurvivalServers.com
SurvivalServers.com usually has coupons and promotions; these coupons have a wide range but generally seem to be around 20%.
SurvivalServers Server Specifications 
At the time of publication, SurvivalServers.com has a wide range of specs for optimal performance and other features. SurvivalServers.com has roughly the industry-standard hardware, such as SSD drives, Dual Xeon processors, custom control panel, FTP access, and DDoS protection. This is more or less the minimum hardware specifications you'll find at any host. Perfectly capable of running a game server, but nothing to write home about.
Compared to other game hosting providers, SurvivalServers is about on par with some of the other mid-range hardware specification companies. When we had a look at our test server, for example, the performance was roughly the same as RoxServers, which have a slightly lower price.
SurvivalServers Custom Control Panel
SurvivalServers.com have a ready-built control panel that leaves a lot to be desired. It performs the basic functions and we can't really complain about that.
If a mod installation is important to you, SurvivalServers does provide a decent solution, as the custom control panel helps you with all things mods/plugins.
SurvivalServers Payment Methods
In SurvivalServers.com terms and conditions it states that the payee must be 18 or older to rent server space. SurvivalServers.com are currently accepting payments from eWallet giant Paypal and credit cards like visa and MasterCard.
So if you're wanting to pay via eWallets like Skrill, they currently don't support them, but you can use Paypal or Credit Cards.
Survival Servers Reviews from Customers
This is quite a mixed bag. We primarily used their TrustPilot page to find some of the most important customer reviews:
GraysonAC: Server for Valheim constantly shuts down, despite setting it to auto-reboot. Has made it completely useless for our community.
Justin Potter: Please be aware that some of the 5 star reviews are due to them offering 10 additional seats in return … I would not recommend Survival Servers.
CSkarma: Bought a small ARK server for a few friends. Buying process was pretty smooth and the server was set up within 15ish minutes. Server usually works well, however, I've had these weird downtimes where the server just shuts down for like 2 hours and I have to manually start it. I'm not sure if that's my fault, just never had that problem with any other server hosters.
Farran: I struggle a lot with odd errors or frozen servers and support is pretty quick and helpful to aid me in most of these adventures 🙂 been with them for 3 years now to play Ark, Conan, and & days to die. Thanks for all you Do SS
Nathan Solberg: There's better hosts, don't waste your time … They might have been great at one time, but I for sure can understand why I've been told twice now not to use them because they put to many servers on one machine.