| | |
| --- | --- |
| ✅ Category | ✅ Game Hosting Company |
| 🏆 Best Game Hosting Brand | Survival Servers |
| 🎖️ Best Overall Conan Exiles Hosting | Serverblend |
| ✨ Best Customer Service | HostHavoc |
| 💨 Best Speed / Ping Hosting | PingPerfect |
| 🕹️ Best Variety of Games | GTXGaming |
| 🔒 Best Security and DDoS | GameServers.com |
We've compiled an immense list of the best Conan Exiles server hosts and filtered them by feature and category. Most of these hosting providers you'll find have big names within the industry, they found their way onto our list by having a brilliant overall service for Conan: Exiles.
Created by the same developers that made Ark: Survival Evolved, Conan Exiles is the second game made by them.  In a way, Conan is set in the same style Ark.
As we see in Ark, Conan: Exiles is very visual, graphics are brilliant and the different biomes in-game are awesome, with sandy areas or haven type biomes.
Best Conan Exiles Server Host
Looking at the best Conan Exiles server host, Survival Servers needed to be named as the best host for Conan Exiles, it stands out in all areas from their blazing fast performance to their brilliant custom control panel, Survival Servers is by far the best Conan exiles server host. 
Take a look at the best Conan exiles server host, and Survival Servers is at the top of the list: 
⭐ SurvivalServers
⭐ ServerBlend
⭐ Host Havoc
⭐ PingPerfect
⭐ GameServers
The custom-built control panel isn't to be ignored either, it's endless features don't even compare to TCAdmin. The game server control panel allows you to customise your modifications and plugins as well as other features for Conan: Exiles.
SurvivalServers.com had previously made mods and plugins for the ARMA series of games, so they have a clear interest as a company in games and understanding the importance of mods.
Determining The Best Conan Exiles Server Host
As we've tested over 100 hosting providers and even more in the future, we've produced a list of criteria hosting providers must meet.  Most sites meet the criteria at some level, however, some don't perform as well as others in them. Here is a list of our criteria for the best Conan Exiles server hosting:
Price / Value For Money
Performance (Server specifications)
Server locations
Control panel
Mod/plugin management
All of these aspects must be meet by the host, in this case, SurvivalServers had clearly dominated in these areas. Look at our SurvivalServers review to see their features and games.
Features Of The Best Conan Exiles Server Host
There are multiple features you'll want to look out for when choosing a hosting provider. Some of these might be an installation of mods, map changing, server location change and many more.
Most server hosting control panels will allow you to change your map easily, however, some might not, that's why Survival Servers has been voted our best Conan Exiles server hosting. Changing maps manually can be tricky and complicated meaning you'll need to contact support and go through a lengthy process.
Another point is mod management and support, mod packs like Oxide work for Conan: Exiles and is very fun once installed and can help you manage your server.
Console management, some hosts allow you to switch your server to Xbox as well as on PC, this is a feature you might want to look out for if you play on both.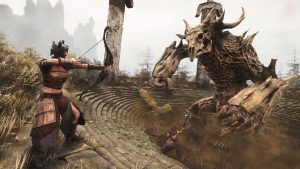 Conclusion of the Best Conan Exiles Server Hosting
All in all, Survival Servers topped out as the best Conan Exiles server host in terms of performance, speed and uptime. 
We've had some great feedback from players with PingPerfect and Host Havoc, we'd recommend you use Survival Servers as your first choice. 
Conan Exiles is one of the favored and loved games by the gaming community, so finding the perfect server host is very important.