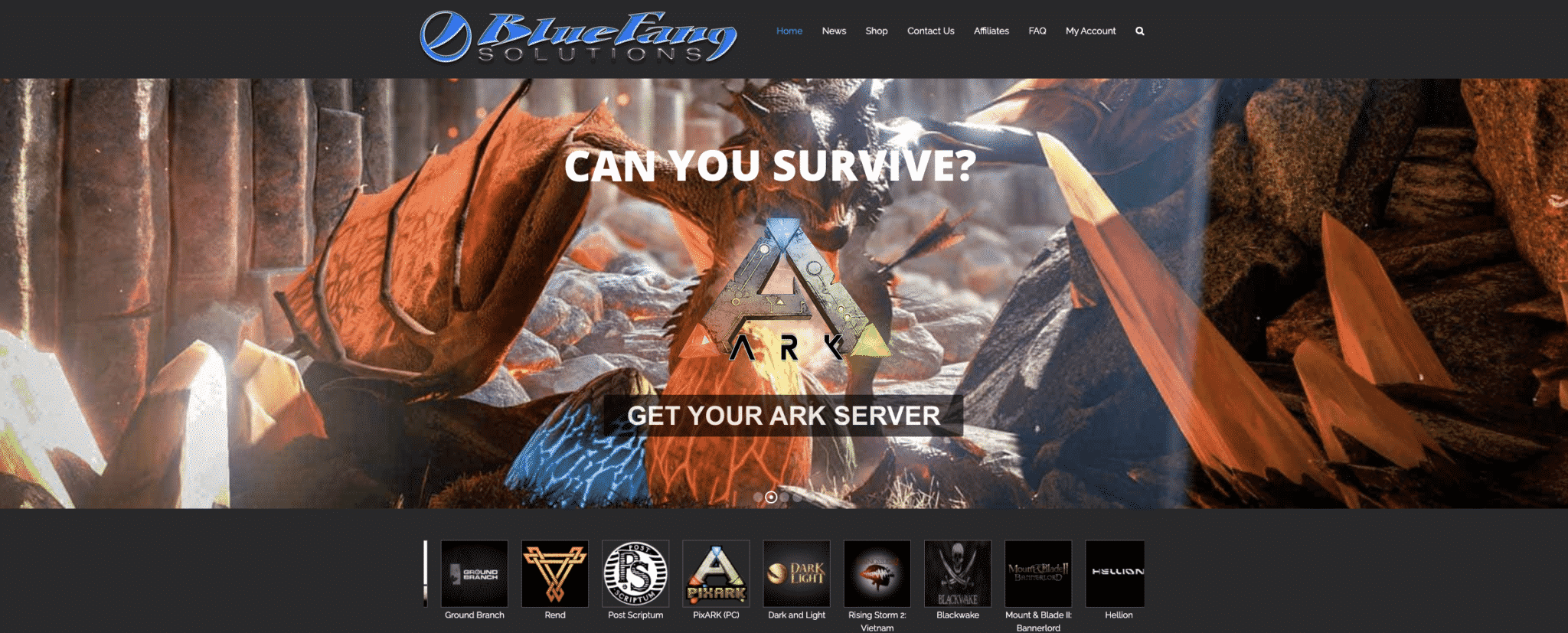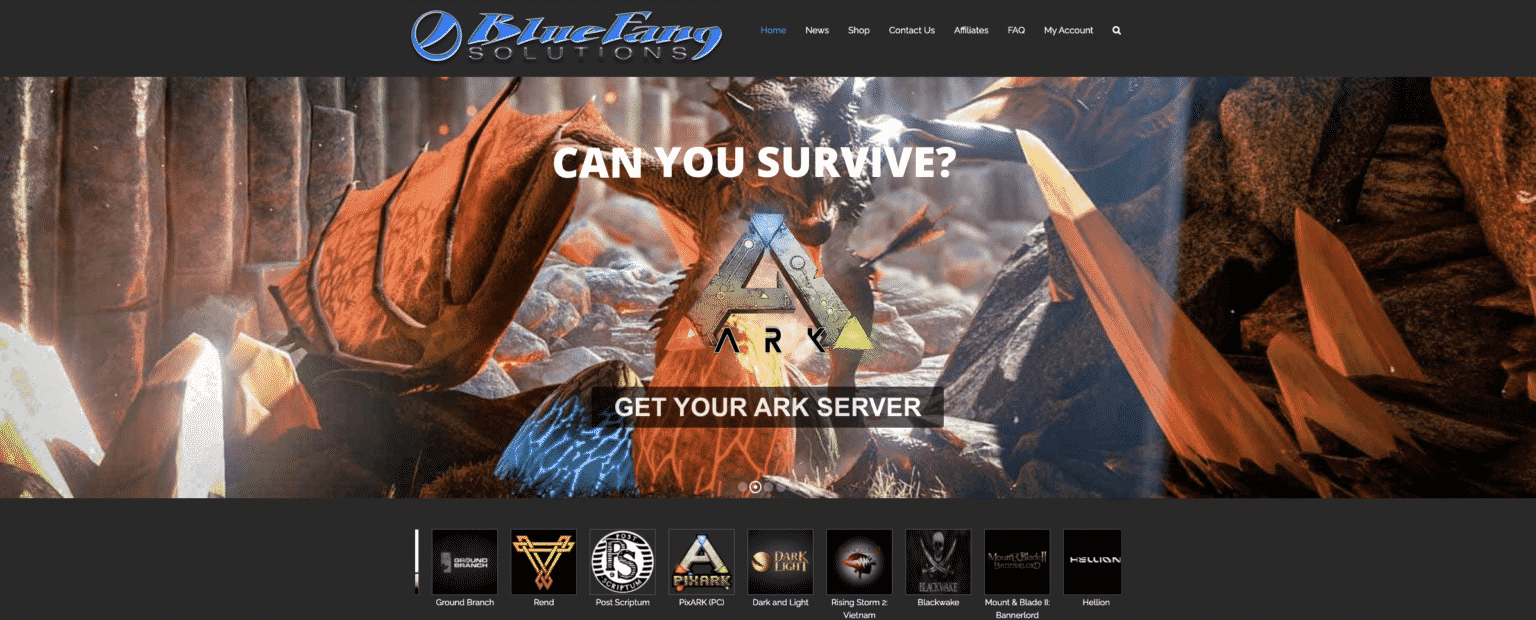 Are you looking for the best game hosting provider for your game server? Take a look at this Blue Fang Solutions review to see the positives and negatives of Blue Fang Solutions. Only then will you be able to make a calculated decision about buying it.
Without a doubt, there are hundreds of game hosting servers out there in the market. The choice is very difficult to make as sometimes you're bombarded with false claims of how good a host is.
Read on to know what Blue Fang Solutions has to offer to its customers. Starting from the price, packages, server performance, customer reviews, everything is covered in this article.
Now, we have very detailed and thorough criteria that a game hosting provider needs to meet in order to make it to our list of best game host service providers. We have evaluated Blue Fang Solutions on the following criteria:
Value for money/Price
Customer Service
Server Performance
Downtime
Modifications
Server Location
Game Control Panel
DDoS Protection
Blue Fang Solutions Review 2020
Thought this was your normal, everyday game hosting server? Wrong. Surely, you are in for a surprise. This is not for the common person. If you are looking for just another game host server, Blue Fang Solutions is not for you!
It is a specialized server that provides the user with the option of hosting multiplayer game servers. This makes is stand out from the rest of the game hosting servers.
Games Available at Blue Fang Hosting Solutions
The game host offers around 60 games. Yes, this sounds a little less as compared to the other game hosting providers who offer hundreds of games. But, the quality of these games is at par with the rest. Following is a short list of the popular games being offered:
Arma II
Conan Exile
ARK: Survival Evolved
Counter-Strike: Global Offensive
Terraria
Arma 3
Hurtworld
Killing Floor 2
Space Engineers
Minecraft
Miscreated
Insurgency Sandstorm
PixArk
And the list goes on and on. True, the list looks smaller as compared to the rest, but it has all the latest releases and popular games so it kind of makes up for the shortlist.
Games like PixARK and Hurtworld, Blue Fang has been close to being called the best Pixark server hosting provider throughout 2020, however, there are several points that allowed Survival Servers to take the crown.
Features of Blue Fang Solutions
The first thing that hit me when I opened the site was the lack of information it had about itself. The about US part was missing, which was quite a setback. Who wouldn't want to introduce themselves first? Where did the concept of gaining trust go?
Any company that does not explicitly display its history or infrastructure is a big question mark. But, as far as hiding something is concerned, it was not that case with Blue Fang Solutions. Sure, they did not display everything on the front page, but all the information is available in the blog-section under the heading of "NEWS".
Signing up is as smooth as a breeze. All you need to do is select a server name and check which payment method you want to go with. Even here, there is a lot of choice. The different payment methods include:
Mastercard
Visa
American Express
Discover Network
PayPal
Payments via Stripe
TrustPilot
It offers two things which make it top the list of game server hosts: A high priority CPU option and a dedicated add-on IP address.
Wow! That's something!
Full List Of Blue Fang Solutions Features
The many features which make it a number one game server host are discussed in detail below
1. Plan Customization
Unlike other game hosts, Blue Fang Solutions gives you an option to customize your plans. Don't feel like you want to go through that headache? No issues. You can choose from pre-defined plans also.
As a result, there is something for everyone.
2. Global Server Locations
Every Blue Fang data center does not host all the games available. However, you can find most of the games on the servers. The following hosting locations are available:
Excellent! If you are playing internationally, you will connect to your local servers. In-game hosting, if you have access to a local server, it increases performance manifold. There is no lag because of the reduced latency.
But, it would have been better if there was a South American or Asian server option. That way, people playing in those regions would face less lag.
3. Control Panel
Blue Fang Solutions uses the Oversee control panel. It is a trademarked software and is amazing. But, what does it do? It lets you monitor the load on your server in real-time. Quite a few game hosting sites give you that option.
The fact that it has a custom control panel gives you more flexibility and control over the gaming experience. Who wouldn't want that?
Game hosting companies like Survival Servers and Serenity Servers have their own custom control panels have fantastic panels that assist you in creating your server.
4. Mod Support
Anyone who has ever hosted or played a game on a hosting site knows pretty well that modifications are a necessity. The normal game does not attract people anymore and everyone wants to add a little spice to their games. Hence, modifications are an integral part of any game host server.
If you are an advanced gamer and want to install a lot of custom mods on your server, you will be pleased with opting for Blue Fang Solutions. The reason is that every Blue Fang Solutions' server has FTP access.
It easily allows you to make modifications to the game's installation folder. Best. You can make changes where it matters the most!
There is a little "Silver Support" button by clicking which you can get technical game assistance. Seldom do you find this option with other service providers?
5. Customer Support
The customer support at Blue Fang Solutions is good. They make it very clear that the technicians can't help you out with all the mods you require. But, they will do their best.
Moreover, the reply rate is quick. Usually, you get technical support within a few minutes.
You have various options to contact customer support. These are as follows:
Therefore, you can contact them anytime, anywhere!
6. Server Performance and Configuration Options
Personally, I have yet to find the server lag even once. Also, reviews by people show the same. There have hardly been any reviews of the server lagging or performing slow.
There are plenty of configuration options available. You can get from a minimum of 10 slots to 100 slots on the server.
The only negative which I found to be worrisome was the fact that there are no automatic backup options or any automatic updates in case of maintenance
7. Price 
Now that we are aware of all the features that Blue Fang Solutions has to offer, we will analyze and talk about the price. Generally, there is no fixed price across the board. The prices vary from game to game. For instance, older games like Minecraft are cheaper as compared to new ones. Minecraft starts from $4.99/month. On the other hand, newer games like ARK: Survival Evolved can cost up to a staggering $19.99/ month.
One thing is for sure, the price tag is worth every penny.
Mostly, the servers include storage of 40GB and can support up to 10 players at a time. Those are nice numbers to look at.
8. Add-on
Blue Fang Solutions provide fixed-cost ad-on to the players. These are as follows:
Silver Mod Support: $10/month
Dedicated IP Port: $4.99/month
High CPU Priority: $10/month
These are surely economical and can add to the gaming experience.
Another feature provided is the voice server package. This costs $3/month for 10 players.
Finals Thoughts On Blue Fang Hosting
The game hosting services of Blue Fang Hosting are impressive. The prices do justice to the features which they offer and there is hardly any lag on the server. Even though they don't have servers in a few major places, still it is worth it!
It would be nice to see a few more games added to the list of games being provided. Even though all the popular games are already all the server, still the number of games others provide is much more than Blue Fang Servers.
In a nutshell, our Blue Fang review highlights if you are looking to host multiplayer games, this host will do you fine. If it means anything to you (and we know it will) you get free cluster support and procedural map generation(PGARK) on Blue Fang Hosting.
For games like Cube World and even Don't Starve Together hosting are fantastic options on Blue Fangs Hosting, it's one of their best performing games. 
Blue Fang Hosting Solutions Reviews from Customers:
Jo A: I've been using Blue Fang Hosting for 2+ years now, and in my experience i've been fairly happy with their service, performance and cost with my Minecraft server. All in, Blue Fang is a good option.