In our Gaming Deluxe review, we're highlighting what the hosting provider has to offer when it comes to payment methods, customer services, the control panel, available games, and coupons and promotions. We will also be looking at the Gaming Deluxe reviews from verified customers, just to ensure this provider is all it claims, and maybe even more.
All host providers must provide a certain level of quality and expertise, and we have made it a duty to review most of these hosts, so keep reading to find out about the Gaming Deluxe host provider.
We distribute game hosting provider ratings according to these key essentials;
Value for money
Price
Control panel
Performance, and
Customer support.
So, without wasting much of your time, let's get this review started.
Gaming Deluxe Review 2022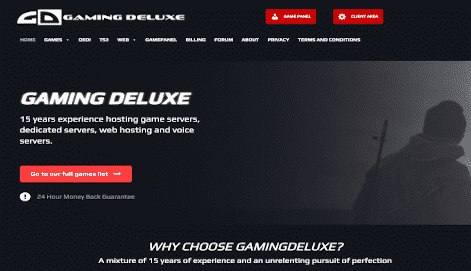 Positives
• In-house dedicated game servers for better maintenance and speeds
• NVME SSD
• Network up-time guarantee
Negatives
Gaming has evolved over the years and has become much more contact-less than before. Gone are the days when people gathered together in the living room just to enjoy multi-player modes. Today, you can be in Chigaco, playing with another game master in Asia, Germany, or South Africa. However, the gaming server you are using determines how seamless and lag-free the gaming experience is. That's why Gamine Deluxe's acclaimed worldwide coverage performance will be the first in the ring.
Gaming Deluxe's servers make use of high-speed processors that ensure a lag-free gaming experience. Some games use one core or more, and the Gaming Deluxe clock boasts of a minimal 4.8Ghz of speed, which improves the gaming experience. Plus, it helps that Gaming Deluxe has up to 12 racks of Dell servers on their side, with Intel Xeon Chips that boost quality and ensure industry-leading performance.
Being developed by a gamer, this hosting service's success comes as no surprise; from the high-quality selection of dedicated servers, industry-level hosting, and DDOS protection, practically everything seems up to par with what most gamers need. Besides, the brand boasts of using only high-quality servers, which means that Gaming Deluxe does not compromise when it comes to performance and quality even when other providers settle for cheaper options.
Another highlight to consider is the originality of the Gaming Deluxe hosting providers; all servers are run in-house which means no third-party client is compromising or delaying performance, a game hosting company like Nitrado simply rent large data racks from OVH or 1&1. This feat also allows the providers more control over the installation and allocation of customer server resources.
Available Games
Multi-player role-playing games are quite popular today, and some are even more immersive and intriguing than others. Here's the thing, not all games are tailored to a certain genre of
people, and that's why it's better to have as many games as possible when operating as a game hosting service.
There's certainly good news for users/players leaning towards getting a subscription with Gaming Deluxe servers; there are a wide range of games available that should suit various preferences. Here are some of the available games;
Minecraft
Swat 4
Rust
Medal of Honour
Wreckfest
Arma 3
DayZ Standalone
Ark: Survival Evolved
7 Days to die
Battlefield
Black ops
Call of duty
Far Cry
Insurgency Sand Storm
Hell Let Loose
Project cars
Reign of kings
The isle
These are just a few of the games available on their website; remember, some of these games come in different levels and versions.
Coupons And Promotions
Even for the most loyal customers, there must be incentives to encourage continued patronage from time to time. Any good business or platform understands this, and Gaming Deluxe is one of them. They give out Black Friday promotions, and also give users a little more to celebrate during the holidays; sometimes it's 50% off.
These promotions are time-limited of course, so it's best to sign up or subscribe to their newsletters to be one of the first to benefit from any freebies or product cost-cuts. There are also incentives for customers who successfully get others to sign up, once the referral code is typed in, such users could get a whopping $100 bonus.
Control Panel Reviewed
The Gaming Deluxe control panel did not disappoint us either, it's very modern, quite extensive, and allows extra fast downloads, applaudable data backup, and scheduled restarts, However, is not custom-like Nodecraft's NodePanel. The control panel is equally very versatile and user-friendly which makes configuring or personalizing a server very straightforward. The drop-down menus and text fields offer easy access, visibility, and functionality, so there were no complaints there. For extra security, there's also a 2-step authentication included, which ensures user accounts are secure on both the game panel and
client area. That's not all, the Gaming Deluxe control panel allows full FTP, which means that customers can upload or download files from their personal devices and use an FTP program to the game.
Another recommendable feature has to be the live server function, where gamers are allowed to see and understand server performance in real-time, we guess that Gaming Deluxe has very little to hide when it comes to quality, performance, and customer satisfaction. To crown it all, the control panel equally boasts of a live CPU, memory and hard disk, these features are certainly hard to beat and very remarkable.
Payment Methods
Gaming Deluxe boasts wide location coverage and has data centres around the globe. All their data centers and servers come with a low latency guarantee and free DDOS protection, which is not common. That means that the servers can prevent up to 99% of harmful attacks even before users are notified. More serious attacks are handled in record time, which is probably why Gaming Deluxe has such a growing customer base.
Read more about Empyrion Galactic server hosting options here.
To pay for any of their services, there is a good range of payment options available. There is Paypal, various Debit and Credit cards, and bank transfer options as well. Gaming Deluxe also offers the opportunity to pay in bits using specific platforms.
Gaming Deluxe Customer Reviews
Bob: I have been using Gaming Deluxe for almost five years, I can vouch for their services, but it isn't without some hiccups now and then. The good thing is their customer service though, they are quick to resolve issues.
Brian: I actually left another top hosting company and joined gaming Deluxe after a friend recommended it. It has been more than four years since then and I must say their services are quite commendable. They have excellent customer service, and even though there are some issues here and there, they are always available to help. I just hope they cut down their prices that's all.
Verified User: I love their customer service, they are a very efficient team and try to give prompt feedback every time I have a complaint. Kudos to Jon, Rob, and Jacob, you guys are great. First off, the server was set up and ready to go in about 20 minutes after my payment was processed. I haven't had any challenges since then. I will have to complain about the price, their services are not the cheapest out there, but for the quality, I can't say I blame them. All in all, I recommend this server.
TJ: I heard about Gaming Deluxe last month, and for now, I have nothing bad to say about them but let's see how it goes.
Verified user: I have stuck to Gaming Deluxe for over a year now, but I must say that the time it takes to get the servers up is a bit too long.