In our BisectHosting Review,  we're looking at what the hosting provider has to offer like games on offer, payment methods, control panel, customer service and also looking at BisectHosting Reviews from customers.
All hosts must provide a quality service in order to achieve a higher grade, we always provide an unbiased review of all hosts, make sure you read below BisectHosting customers reviews.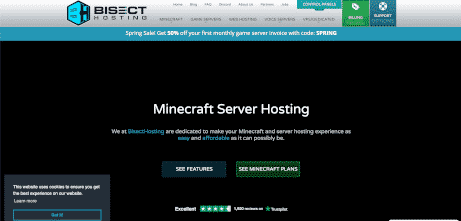 Positives
• Plenty of games available
Negatives
• Aggresive and incompetent staff
• Expensive slots
• Refunds are non-existent
• DDR3 Ram & Slow hardware
We determine the rating of the hosting provider based on several criteria. Here are the following:
Value for money
Price
Control panel
Performance
Modifications
Customer support
We talk about promotions and coupons, however, this isn't an assessment of how good the best game server hosting provider is.
BisectHosting Review 2022
First, let's look at performance, BisectHosting servers currently possess Intel Xeon processors with clock speeds of around the 3.5Ghz to 3.7Ghz including DDR3 Ram and blazing fast SSD drives.
They also monitor their CPUs 24/7 in order to ensure that they don't get overloaded.
Generally speaking, when we tested BisectHosting we saw a decent amount of performance, however, we weren't able to stress test the server.
Let's have a look at the price, BisectHosting start at around $0.50 per slot with most games which is decent and packages starting at $4.00 starting with 8 game slots. BisectHosting has decent prices and perfect for those wanting to just play with a small number of friends.
So both performance and price aren't good, we'll look at the control panel briefly as well as the range of games they have to offer.
As for their control panel, they use a very popular hosting panel called 'Multicraft' which is popular among other Minecraft specific hosts like Hosthorde. Generally, the control panel has a plugin directory and full FTP access.
As for games, they mainly specialise as seen in our best Minecraft server hosting section, however, they offer a small range of other popular games.
BisectHosting Available Games
As mentioned above, BisectHosting has a small range of games, these include the following:
Minecraft
Garry's Mod
Ark: Survival Evolved
CSGO
Left4Dead2
CSGO
ARAM 2 & 3
Rust
So, for a Minecraft specific hosting provider, it provides a decent amount of games. Although, these all max out at 32 slots so you won't be able to build a massive server, ideally just for friends.
BisectHosting Payment Methods
Looking at their payment methods available, you can use Visa, Mastercard, American Express, Paypal and Paypal Credit. All of these should be suitable for you as a buyer, however, some hosts have a larger amount of payment methods available, but these should do and are good enough for most.
However, many customers have reported the payment portal causing plenty of issues, which is a notable issue.
Promotions and Coupons at BisectHosting
BisectHosting occasionally has some impressive coupons and promotions for various different customers. We'll keep you up to date on our coupons sections. To note, we reviewed PloxHost and they have little to none promotions available.
BisectHosting Features
As for features, all their servers have 'Instant setup' as well as Full FTP Access, Free MySQL, 24/7 support, Multicraft / TCAdmin, unlimited SSD space, DDoS Protection as well as a free sub-domain.
All of these features are great for those wanting a game server from Bisect Hosting. They have both 'Budget packages' and 'Premium packages'
They also offer dedicated servers and VPS for those wanting a very big and fast server.
BisectHosting Reviews From Customers
PogChampion: I didn't use the hosting and forgot about the automatic payment. And without my consent it automatically lasted (I missed my automatic payment). I wrote to suuport and money returned easily. It has a policy for reimbursement for 3 days. Thanks, Bistecthosting!
CromeLigher: Jacob messaged back within 5 minutes of me sending my first message. Great service and the issue was solved in less than 10 minutes
Verified Customer: We paid for their best server, hoping 160 people could run vanilla. It crashed at 30 when we tried. Do not purchase this service, please
Anubis Marc: Excellent customer service, I didn't have a chance to experience it personally, but  I was really impressed, because I have only had it for a few days