Our GameServers Review highlights what the game hosting provider has to offer, we also cover everything from payment methods to customers reviews of GameServers. GameServers is generally a great service for those wanting a game server.
We're determining the rating of this host-based on various criteria we use on all hosting providers when we review them. Here is our criteria for hosts:
Value for money
Price
Control panel
Performance
Modifications
Customer support
We also look at promotions and coupons offered by game hosts, these don't affect their overall scores and can indicate in both directions how good a game hosting provider is.
GameServers Review 2022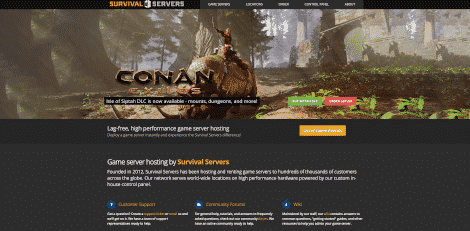 Positives
• Powerful hardware and plenty of server locations
• Connected to one of the biggest web hosting companies
• Best value for money
• Custom game server control panel
Negatives
• Expensive slot and RAM prices
When looking at our overall review guide for hosting providers GameServers comes in at 2nd, however, it's very close to SurvivalServers rating, so it's hard to say which one to choose on each game, but we've shown in our specific game server reviews which one to go for.
When it comes to pricing, GameServers is quite highly-priced, however, you get very good value for money. Prices range from $0.15 per slot to $2.25 per slot. When you look at their performance, control panel and everything else considered it's great value for money.
Looking at performance briefly, when testing the server on Minecraft with 12 players active, we saw a decent amount of performance sitting at 20 TPS and using a small amount of ram, the server wasn't modded just vanilla. So, generally, when choosing a server for a small group of friends on a small package you'll be fine. They're a considerable competitor in the 'Best Minecraft server hosting' section.
So both pricing and performance are adequate, now we'll take a quick look at their game control panel. Game server hosting providers like SurvivalServers have built their own control panel from the ground up allowing you to modify your server to your exact specification, some use panels like TCAdmin and Multicraft. Fortunately, GameServers have a custom control panel. We'll speak about their custom control panel below.
They also offer a '5 Day Refund' for those that aren't satisfied with their services and will refund 100% of the payment. 
We briefly spoke to their customer support and asked some basic questions, but we'll discuss that also below.
Information
| | |
| --- | --- |
| Site Name | GameServers |
| Promotion | Seasonal Promotions up to 20% Off |
| Email Address | |
| Established | 2004 |
| TrustPilot Rating | 4.8 |
| Games Available | ARK, Valheim, Dead Matter, Minecraft, Rust & Project Zomboid |
| Payment Methods | American Express, Visa, Mastercard & Discover |
| Control Panel | Custom Panel |
| Server Hardware | Intel, AMD & Xeon Processors |
Games Available at GameServers
When it comes to games GameServers has the widest range of games of the best game server hosting providers. Here is a shortlist of there massive list of games: 
Call of Duty
Minecraft
DayZ
ARMA 2 & 3
Half Life
Ark: Survival Evoled
Space Engineers
Farming Simulator
Team Fortress
Terraria 
Quake
CSGO
Conan: Exiles
For reference, this is a small list of the games available on GameServers, their list is very impressive with over 100 games. They definitley have the largest games network. 
Best Features of GameServers
It's quite hard to be negative about GameServers, they've served over half a million game servers worldwide. They've also helped game developers like Blizzard and Infinity Ward. They also have Full support 24/7, one of the largest networks in terms of server locations and you're able to change the server location up to 4 times per month. 
Their custom control panel is also brilliant and makes setting up your server very easy. They support up to 200 mods and make sure that setting up a server isn't the hardest thing to do. 
GameServers.com offer a 'Guaranteed satisfaction', when we tested were certainly satisfied. 
Server Performance Specifications
GameServers.com doesn't exactly provide game server specifications but they allow you to rent out an entire dedicated server. Their specifications for dedicated servers range from 4-6 cores with 3.0Ghz to 3.5Ghz and you can range from 16GB to 64GB with HDD to SSDs so when choosing a small package you'll have a small part of the dedicated server, so your specifications with range from the above. 
But when testing the servers we hardly saw anything performance issues, but you can read the customer reviews of GameServers.com.
GameServer's Custom Control Panel
We mentioned GameServers.com custom control panel and it shouldn't be ignored, only a couple game server hosting providers offer a custom control panel due to it's expense, like PingPerfect. But generally, this allows customers to be able to set up their server very easily and allows them to install mods and generally modify their servers easily. 
If you're not an expert when it comes to setting up a server, GameServers.com is the place to go.
Available Payment Methods
When it comes to payment methods most will have PayPal or Visa and GameServers.com have these. They also have Mastercard, American Express, Discover, JCB, Checque, Clanpay and Money Order. So, most of these will be suitable for customers. 
Customer Reviews of GameServers.com
Flying Hot Dog: Outstanding service for customers. Each single cent is worth it. For over 10 years, I has been with them! I've tried numerous hosting services, but GameServers.com they're just so good.
Jack Sven: Honestly, this is the best customer service, the answers were quick, and the price was extremely competitive and inexpensive. When hosting a server. 10/10
Kollerup: My TF2 server is still lagged, and the customer service is bad, when you are asking for help, they don't know what to do, but all right, costs. And it also has an outdated platform so I'm not going to recommend it to anybody!
Jacob: For more than one year, I ve had a rust server with them. Most of the time there is little to no problem, but they tend to take their time to resolve it when there's a problem. I ve had help tickets for 48 hours but lately it seems to have changed.
Alex B: Throughout my experience with GameServers it's been great, I contacted support multiple times and they responded with greatly detailed responses. Literal no downtime throughout my server's life. 5* to GameServers.