In this DatHost review, we will be looking at the most distinct aspects of the game hosting platform. Altogether, there are a few factors that make this service stand out. But, to give a thorough and unbiased review, we will be looking at the same key areas we use in all our reviews.
Listed below here are the key areas we will be considering in today's review:
Support
Control panel
Payment methods
Coupons and promotions
Reviews from customers
It is noteworthy that though we are looking at coupons and promotions, we don't quite make it into consideration when coming up with the overall rating.
DatHost 2022 Review
Let's start by looking at some of the positives and negatives associated with using this hosting platform.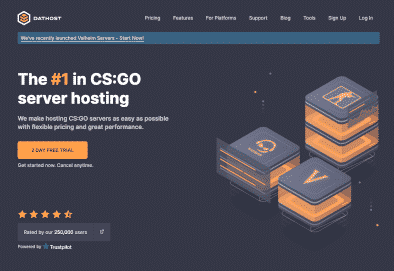 Positives
• They offer flexible pricing plans
• Easy setup and accessible user interface
• Efficient customer support and relations
Negatives
• Aggressive email advertising
• Random server crashing
DatHost is steadily gaining ground in the game hosting site market, so many people are still sceptical about its legitimacy. Nevertheless, this service has been around for close to a decade as it was founded in Västerås, Sweden in 2012. They have servers available in 16 locations spanning across different continents. More specifically, their servers are located in:
America
Portland, Oregon
Los Angeles, California
Dallas, Texas
Chicago, Illinois
New York City, New York
Europe
Bristol, UK
Barcelona, Spain
Strasbourg, France
Amsterdam, Netherlands
Dusseldorf, Germany
Warsaw, Poland
Istanbul, Turkey
Moscow, Russia
Asia
Australia
That is not all though. They also have some servers that are available on request, they are located in Beauharnois, Canada, São Paulo, Brazil, Gravelines, France, Johannesburg, South Africa, Mumbai, India, Taipei, Taiwan, Seoul, South Korea and Tokyo, Japan.
The cornerstone of their uniqueness is their flexible pricing structure; the company understands that not every player needs their server to be up and running for 24 hours every day. With that in mind, they offer a pay-as-you-go option, so users can choose to only pay for the time they spend using the server. Regardless, if players need the server to run for up to 24 hours a day, they offer a monthly cap on the cost. As such, the monthly cost is still quite affordable. This stood out to us as one of their better features.
If you opt for the pay as you go option, then the charge is 0.40 Euros per hour for hosting Counter-Strike: Global Offensive (CS: GO), 0.25 Euros per hour for Team Fortress 2 (TF2), 0.10 Euros per hour for TeamSpeak 3 and 0.33 Euros per hour for Valheim. So, once the server is turned off, the charges are halted. As mentioned earlier, there is a cap on monthly payments. As such, the price stops running once it hits 11.88 Euros, regardless of how long it is switched on. This is a great deal considering what the price covers feature like:
Premium networks
Custom domain name
Free MySQL server
Free DDoS Protection
A range of CPU resources
Public or Private server
SSD drives
Free FastDL
Swift automatic setup
Enterprise hardware
Automatic backups
Let's just say, it may not be too early to say that they offer good value for money, but the jury is still out until we look at their performance. The first thing we noticed is that DatHost is that it offers stellar performance when it comes to CS:GO. This makes sense since it is known as one of the best and most affordable servers for CS:GO players. It even accommodates MySQL database hosting, which is great news for gamers using KZ.
The same cannot be said for their Teamspeak server, there is less control there. For instance, it is practically impossible to change your personal subdomain name or to install and run bots. We did not experience this, but we heard through the grapevine that there are also random restarts and outages which is a pain when you are in a multiplayer game.
Nevertheless, that does not mean that controlling the server is generally difficult. We were able to use their API to control the server, but this is a feature that is more suited for leagues, matchmaking platforms, and tournament organizers. For the most part, you can simply resign to control it using your Discord server.
Altogether, upfront it is quite easy to set up, furthermore, the server runs pretty smoothly. Right off the bat, they have it all configured, so we did not have to deal with that, so we were ready to play within mere seconds of set up. That is probably because they run on enterprise-level hardware, also, they have top-notch DDoS protected networks.
When it comes to supporting and customer relations, DatHost takes it very seriously. They respond promptly and are quite swift to deal with any issues. Seeing as this is a game hosting server created by gamers, and for gamers, they take a very personal and hands-on approach.
They even get ahead of anticipated issues, for instance, if your data center happens to burn down, they will simply redeploy it to another one within an hour. Considering all this, DatHost is quite efficient.
Available Games
If you are looking to play a wide range of games, then you may need to look for other servers like Citadel Servers or Fragnet Hosting because DatHost accommodates only a handful. Here are the games available:
Counter-Strike: Global Offensive (CS:GO)
Team Fortress 2 (TF2)
TeamSpeak 3
Valheim
Mumble
Ark Survival: Evolved
Coupons and Promotions
DatHost servers are already as affordable as they come, but there are coupons available going up to 50% off. We will keep an eye on that and keep you posted once any coupons or promos are made available.
Control Panel Review
DatHost has a highly intuitive game control panel, like everything else on the server, it is easy to use. It makes the configuration and control quite hitch-free. They use a custom game panel that comes with a range of functions such as scheduled commands, file restoration, and a handy web console.
Payment Methods
Renting a DatHost server is not difficult at all since they use quite accessible means. For the most part, users can remit payments using debit or credit cards as well as PayPal. Users are required to pay all bills on the first day of each billing cycle. It is also noteworthy that services will be automatically renewed until you cancel them.
For any refunds, gamers are required to send a mail to [email protected] at most, 2 days after the invoice date. They reserve the right to reject any refund requests that come 2 days after the invoice date.
DatHost Reviews from Customers
TeamJake.01: Judging from my experience so far, this is a very good hosting website. I have been using DatHost as a CS:GO server for up to 6 months presently and there are no complaints here. I would highly recommend it.
SeeJay: I usually do not care enough to review any service I use, but after trying out DatHost, I had to say something. I have been using DatHost, for some time now, mostly for my CS:GO servers. They are relatively stable, easy to set up and the configurations tend to stay intact for a long while.
Loni: For their support, I would rate them 10/10, they are very responsive and friendly. For the servers, I'd have to go with 8/10, just because of the occasional ping spikes. They are just some minor issues, if they could just offer FastDL, it would be considered the cream of the crop.
Lexi.lex: The hosting part is not bad, it's their constant email marketing that makes them come off a bit too strong. It's off-putting.