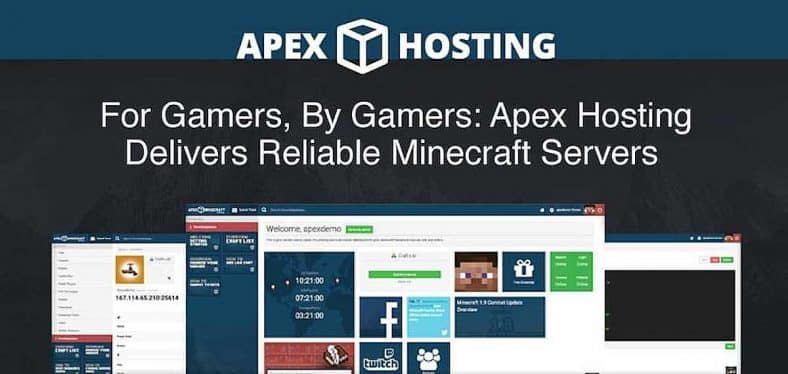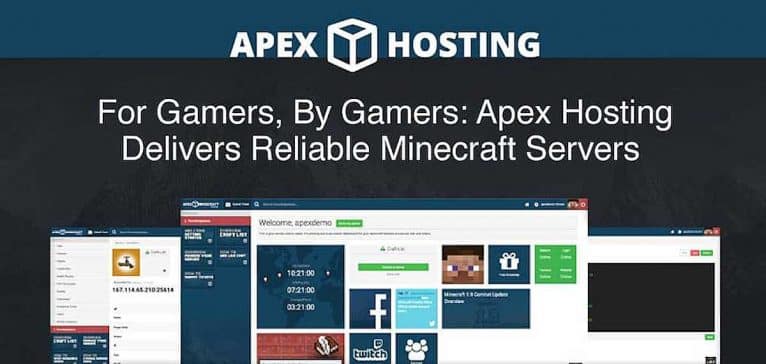 Are you looking for the best game hosting provider out there? Take a look at this APEX Hosting review to see the positives and negatives of Apex Hosting.
Are you new to hosting servers and have no idea how to set up a server? Apex Hosting is the thing for you. Are you a professional and want to create the best Minecraft server for your players? Again, Apex Hosting is just the right game host for you.
In this article, we will go through all the features offered by this host and have added actual customer reviews from hardcore Apex hosting users.
Let's take a look at why Apex Hosting tops the charts when talking about the best Minecraft server host.
Apex Hosting Review 2021
No doubt, there is a plethora of options out there in the market to choose from, if you are looking for a powerful and fast Minecraft hosting provider. Apex Hosting has quickly made its name in the market because of its affordable cost, high performance, and excellent services.
Looking at the reviews about the best game hosting servers on the internet, Apex Hosting has been seen to climb the ranks. It is one of the most popular hosts for Minecraft servers, voted as such by hardcore customers.
There are a number of reasons why it is so. You get hosting and a domain.
Unlike other server hosts, it allows you to manage the site in real-time through the Multicraft tool. But, there is a cost attached to it. And it is not cheap. Creating a new server to play Minecraft on Apex Hosting is expensive. Therefore, it is better to hire the host for a very modest price.
Technical Launcher is also an official partner of Apex Hosting, which is handy if you're into Tekkit, which is modified game of Minecraft.
Sure, it does not have a multisite option, but to be honest, that is not the demand of a dedicated Minecraft host.
Apex Hosting Rating Determination
For a game hosting server, making it to our list is no joke. We follow very thorough and tough criteria when it comes to analyzing a game hosting provider.  It is evaluated on the basis of the following parameters:
Value for money/Price.
DDoS Protection.
Server Locations.
Server Performance.
Customer Service.
Downtime.
Game Control Panel.
Modifications
And we tested all of these in our APEX Hosting review and they've aced all of the above.
Games Available at Apex Hosting 
With all the talk about Minecraft, did you also think Apex Hosting was a dedicated Minecraft Server? No, that isn't true. Apex Hosting has added new games to its list. These games are as follows:
Apex Hosting really only offers these three games, this is a host similar to McProHosting which only offers a select amount of games to ensure that they all stay up to a quality standard, similarly, these also offer hosting for Hytale which is said to be the next 'Minecraft'.
Features of APEX Hosting:
1. Payment Methods
One thing that attracts me towards a game server is the payment method. Sounds weird, right? But, I have been let down so many times by so many hosts because I did not have the right card to pay. Unlike others, Apex Hosting has the following options through which you can make transactions:
Visa
Mastercard
American Express
PayPal
In this way, you have more flexibility to make payments.
2. Apex Hosting's Ease of Use
When we talk about creating a game server, the ease of use is critical. What use is a top-notch game host site if you are unable to understand how to create your own game server? Hence, the host management process needs to be easy to understand; otherwise, the players will just quit and shift to some other host.
Users will not waste their time trying to understand complicated procedures, as no one has the time and patience to do that. Moreover, with the number of game hosting websites out there, it will just take a second to switch.
Keeping this in mind, Apex Hosting takes the lead in efficiency. How does it do it? It has Multicraft. The fact that it is just like cPanel can give you an idea how easy it is to use. The compatibility and simplicity make it easy to use with most of the applications and modifications.
3. Domain Name
The domain name offers a specific area code with it according to your location. This makes it obvious that it is a Minecraft server. This is a feature seldom offered by the other game hosting servers.
And the best thing is that the subdomain is free. Yes, totally free. Every order made gets a free web address to connect. Nice, isn't it?
4. Server Locations
Have you ever faced latency issues? Yes, those lags are what I am talking about. Surely, they are the death of any gaming host. No one wants a game that lags. But how to overcome that?
It is done by connecting to a local server provided by the game host server. Apex Hosting has a number of local servers in the following places:
India.
Australia.
Israel.
Singapore.
China
Russia.
Germany.
Portland.
Nevada.
France.
UK.
Brazil.
Quebec.
Florida.
Virginia.
Oregon
New Region – Coming Soon
Unlike other server hosts that are done and dusted in terms of server locations, Apex Hosting is still expanding. They are soon to add a new region, which has yet to be disclosed. That's something!
As every customer is connected to a local server, things go smoothly.
5. Database
Digitally, the database needs to be large when you are creating a server for Minecraft. Hosting along with managing the game needs a good database, and that is provided by Apex Hosting. Thus, you will face no problems in creating your personal Minecraft server.
Apex has a MySQL system which gives you access to the entire database. Don't know much about it, do you? Well, it is the best open-source database there is in the world.
6. Transfer/FTP
How many times have you paid upfront to transfer your information to another domain? Been through that, haven't you? Well, unlike other hosting companies which require a particular fee to transfer information to another server, Apex Hosting has come up with a solution to this problem.
With the help of its innovative tool Multicraft and modification options, you have all one needs to create THE best Minecraft server to host your games.
7. Mods, Modpacks & Plugins
Mods are the lifeblood of any game. No one wants to play with the company version of the game all the time. Modifications are essential. Every person is different and every gamer has something to add to the gaming world. Hence, comes the concept of mods kicks in.
Apex Hosting has its own detailed list of mods it offers and supports. If you aren't in the mood to add your mods, go for the predefined ones on Apex Hosting. The list of mods can be checked on the website.
The changes are swift and quickly set up. You don't need to spend hours figuring out whether the changes have taken place or not. No need to refresh the server again and again.
8. DDoS and Security
The security quotient on Apex Hosting is much higher than the other hosts in this category. It is fully protected against big and small DDoS threats alike.
9. Customer Support
The support team is one of a kind. You can easily say they have handpicked the best from the best. All you need to do is submit a ticket and leave it to the support team.
All the team members are experienced professionals who have years of experience dealing with Minecraft servers and know what they are doing. Hence, there is hardly anyone who is not happy with the customer support they offer.
A live chat option is available 24/7, 7 days a week, 365 days a year! Wow! This means there is no odd hour to contact them and your game map will be up and running all the time. Apex Hosting Support is always available.
9. Control Panel
Remember how it takes a good 20-30 minutes for your changes to show on your server? Gone are those days. Apex Hosting servers are really quick to implement your modifications. Things that take 15-20 minutes to do on other servers hardly take 5 minutes on most apex hosting packages.
The control panel is fairly simple to use as compared to the others. A custom control panel adds to the authority you have over your game server.
Surprisingly, you can control the panel from both your PC and mobile phone, with their app.
10. Price
All things aside, the price is surely an important factor when it comes to deciding a game host for yourself. The internet is full of them and the servers range from very cheap to over expensive. Each server comes with its options and it is for you to decide what value for money stand for you.
A thing to remember here is that when you create an entirely new server, it is going to be expensive. If you check the internet, the prices for game host server creations are on the high side.
It has the following price plans for APEX Hosting:
Basic service plan – $4.49 USD/month
Basic services plan and some modpacks – $7.49USD/month
Basic services plan and all modpacks –  $22.49 USD/month
You can easily pick the plan that suits you.
However, Apex Hosting can be quite expensive compared to some other Minecraft hosts, take a look at this HostHorde review which is another host that only offers Minecraft.
11. Hardware
Apex Hosting Server has the best hardware in town. The hardware includes SSD hard drives and high-clock speed CPU's which provide very high TPS. As a result, there is zero lag.
APEX Hosting Review Round-Up
I am sure you know all you need to know about Apex Hosting through this Apex Hosting Review. The reason we have put so much in our Apex hosting review is all because of you. So, if you are looking for a server that gives you amazing features at an affordable price along with no headaches associated with it, Apex Hosting is the game host for you.
Apex Hosting resembles hosting providers like HostHorde and McProHosting, and you look at McProHosting's review here, with a very similar setup to Apex hosting due to their sharing similarities with Minecraft hosting, 
Not only this, it has ample storage, different packages with different prices, and a global network makes Apex Hosting potentially one of the best hosting providers in this category.
Apex Hosting Reviews from Customers
Anyone looking to verify if Apex hosting is good or not will look at customer reviews and a reputable review. These customer reviews of Apex Hosting are all from users that have been using Apex for more than 6 months, so issues would likely arise within this time frame. 
Chris A: My son was playing Minecraft for a while when he wanted to set up his own server. I was not at all excited about giving our IP. After a little research I stumbled upon YouTuber Nicsgames and his videos turned out to be a fantastic source of information for a person who didn't want to be guided by a child. He was the reason I came to Apex and I was very content with the tutorials and price available to help is get our server. As with using any new technology, there were a few hiccups here and there, but the support department was amazing and there is  no question which is silly to them. Each time I needed any type of assistance they are quick to help and help us get back on the track. This has resulted in me recommending  Apex to 2 other dads. They are equally happy with their personal experiences. Thank you Apex Minecraft for helping me look smart in front of my son!
Pedro A: Apex Minecraft Hosting is providing the best server for Minecraft experience! It has stable connections, a user friendly server console, amazing web support and all this at a very affordable price! What else can one ask for? Totally recommended by me!
AgentSnail: Deciding to buy a dedicated server was difficult. I admit, with the multiple options available in the market, this task seemed daunting. But Apex came up on the Technic launcher as they are partners, Because of that, I got the server at 25% off the original price. This deal was not a thing to pass, especially if I had already decided that having a dedicated server would be as nice as I thought it was going to be. Turned out it was, and Apex gives you the option to edit your server in a number of ways through different services and FTP. I've made changes to the modpack ample times, and things that usually take fifteen minutes to almost an hour was done in five minutes, that too perfectly. The server never lags and is always up. Therefore, I would recommend Apex hosting server to everyone I know for these reasons.
Benjoghn1: I think the Apex hosting servers are good.  For the fact that it is easy, cheap, and reliable in the features it offers.
Ripperr7: A Fantastic server by Apex. Would highly recommend it!
BenG: It is by far the best Minecraft host I have ever used throughout my years.
Pandabear97: Within my experience with Apex Hosting all my servers have had great performance and ratings from users, I've been using Apex for 2 years now and wouldn't change to anyone else.